Get Off Your Knees & Pray
Sheila Walsh, Author
Tuesday, February 26, 2008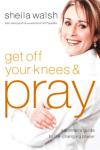 I felt my son's pain. (Is there a believer alive who hasn't thought something like that when it seemed as if heaven was silent to his or her cries?) At his tender age, my son had to experience what it means to pray according to the Father's will, whether or not he—or I—understood it.
There is obviously much more to this thing called prayer than what we currently know. Though you and I will be gathering information about prayer all our days, our lives are only a speck of time in God's plan. There's no way we could hope to understand everything in our limited time on earth.
Of course, that doesn't stop us from trying to figure it out, does it? Sometimes we're tempted to think we know all the answers—or at least most of them. We draw conclusions from our limited perceptions and try to force ourselves and others into believing them.
The Church Lady
If you were a fan of the television show Saturday Night Live a few years ago, you might remember a character created by Dana Carvey. Her name was Enid Strict, affectionately referred to as the Church Lady. She was the very prim, proper, and pious host of a talk show called "Church Chat." As she interviewed celebrities, the Church Lady used her platform to rail against their ungodly behavior.
Carvey says he based the character on women from the church he attended while he was growing up who would keep track of his and others' attendance.1 I find that very sad. I wonder how many people have encountered a Church Lady growing up, and because of her strict views, they think God judges them according to their church attendance. That he answers their prayers based upon their adherence to rules defined by culture more than by Scripture. I can't imagine many people would want to pour out their heart to someone like that. In the hands of someone like Enid Strict prayer is a weapon to be used against people: "Sic 'em, God!"
Prayer is not always easy. Nor is it always joyful. And no, we don't always get what we'd hoped for out of the dialogue. What I do firmly reject, however, is the idea that God is a cruel puzzle maker who watches dispassionately to see if we will figure things out in time. That goes against the whole story revealed through the Word of God.
From the first words of Genesis until the glorious conclusion at the end of the Revelation to John, what flows from every page of Scripture is one grand prayer adventure. It is a love story about a God who chooses relationship rather than blind obedience, who allowed his only Son to be tortured and killed so that you and I could be washed clean of the sin that separates us from him. God does not torture his beloved people. He calls to them.
Perhaps in this first chapter I have found more questions than answers, but I am convinced of one thing—it matters that we pray. After all, Jesus didn't say if you pray but when you pray (see Matthew 6:5).
What a Friend we have in Jesus,
all our sins and griefs to bear!
What a privilege to carry
everything to God in prayer!
O what peace we often forfeit,
O what needless pain we bear,
All because we do not carry
everything to God in prayer.
Have we trials and temptations?
Is there trouble anywhere?
We should never be discouraged;
take it to the Lord in prayer.
Can we find a friend so faithful
who will all our sorrows share?
Jesus knows our every weakness;
take it to the Lord in prayer.
Are we weak and heavy laden,
cumbered with a load of care?
Precious Savior, still our refuge,
take it to the Lord in prayer.
Do your friends despise, forsake you?
Take it to the Lord in prayer!
In His arms He'll take and shield you;
you will find a solace there.
Blessed Savior, Thou hast promised
Thou wilt all our burdens bear
May we ever, Lord, be bringing all to
Thee in earnest prayer.
Soon in glory bright unclouded there
will be no need for prayer
Rapture, praise and endless worship will be our sweet portion there.
—Joseph M. Scriven

Used by permission. Adapted from Get Off Your Knees & Pray by Sheila Walsh (Thomas Nelson Publishers, Copyright 2008).
Have something to say about this article? Leave your comment via Facebook below!
advertise with us
Example: "Gen 1:1" "John 3" "Moses" "trust"
Advanced Search
Listen to Your Favorite Pastors