Glory Road
Anthony J. Carter, Editor
Wednesday, July 29, 2009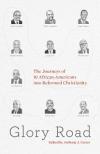 I thought it best for the short term to settle in and quietly serve in my church and wait to see what God might do with me. I spent the next few years driving the church van, transporting the church's senior citizens and poorer members. It was a wonderful time, but I was unable to see that Christ was steadily leading and preparing me for future ministry. During this time I was being tempered by the Lord's senior saints, and I became better acquainted with normal church life and the struggles of the average churchgoer. God gave me a very deep love for his church and a sincere desire to see his people grow spiritually.
During this period we relocated to Fort Lauderdale, Florida, and my inner struggle and doubts went with me. I knew that God was calling me to the ministry, but I felt that I should have answers to my questions before I entered. It was during this period that God led me to a small Christian bookstore that also held regular church services. I had never before considered worshiping in such a place, as I had only attended well-established, high profile churches in the African-American community. The gentleman who ran the ministry seemed more serious than many ministers I had previously encountered and hinted that he had mentored men in the past who had gone on to become ministers. I thought that God might have a purpose for me there. In a short time I was leading a Sunday school class, and soon I was serving as youth minister, deacon, usher, and janitor. I even led the singing a few times. My questions raged on, but I realized that I no longer was asking them only for myself, but also for the people I served.
Finding Answers
Though I regularly read the Scriptures, I was drowning in questions for which I had no answers. I consulted commentaries only to discover they differed among themselves, and I wasn't sure how to decide which was right. I began again to be interested in more formal training. This time I decided to be more careful and discerning in my selection of an institution. During this period my pastor quoted the nineteenth-century English preacher Charles Haddon Spurgeon during one of his more fiery sermons. While I cannot remember the details of the sermon, it marked the opening of an entirely new chapter in my life. A short time later I inquired about Spurgeon and was directed to a book he wrote entitled Lectures to My Students. I had never read such a book before; I would have great difficulty expressing the strange inward delight it brought me. I sensed that I was moving toward what I had longed for since I was a child, namely a theological bedrock on which I could not only rest my faith but even build a ministry. I next read The Pilgrim's Progress by John Bunyan. It so excited me that I gave it to my wife, and she devoured it just as I had. I then began purchasing Spurgeon's sermons in booklet form and reading them regularly.
I made it a point to read other authors that Spurgeon favorably mentioned, including the great Puritans John Flavel, Jonathan Edwards, Robert Murray M'Cheyne, John Owen, Thomas Manton, and others. They were like enormous mountain peaks; I didn't think I could scale their heights, but I would try to climb as high as I could.
It was about this time I went public with my intentions to enroll in Trinity International University, South Florida campus. This meant that I was not going to be available to serve in my church in the same way I had previously. I was shocked and somewhat discouraged when my news wasn't favorably received and was actually spoken against. The tension was significant enough that I ended up leaving the church. I was sad but somewhat relieved, because I reasoned that this gave me the chance to find a church that would support my desire for formal education. God led me to the historic Piney Grove First Baptist Church of Fort Lauderdale.
For the next three and a half years I lived in two distinct but equally pivotal worlds that profoundly influenced the theological course my life would take. Piney Grove First Baptist Church was a historic African-American church associated with the National
Have something to say about this article? Leave your comment via Facebook below!
advertise with us
Example: "Gen 1:1" "John 3" "Moses" "trust"
Advanced Search
Listen to Your Favorite Pastors