Glory Road
Anthony J. Carter, Editor
Wednesday, July 29, 2009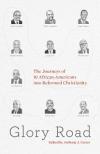 The next day I told a friend I needed to meet some Reformed people in the area and asked who was a safe bet. I was directed to a young African-American man named Mike Campbell who had recently taken up a pastorate at Pinelands Presbyterian Church in Miami. Mike was committed to the Presbyterian Church in America (PCA) denomination and at first seemed way too enthusiastic for my comfort. Since I was not teaching that following Sunday and really wanted my wife to meet someone living and Reformed, we visited Pinelands. We were encouraged by the service. Mike gave a thorough, well-developed message that solidly explained the text and passionately applied it. My wife had a very positive experience, and I was happy. I now consciously identified myself with the Reformed movement and began sorting out where I fit within it.
After completing my studies in Miami and graduating with a BA in Biblical Studies, we relocated to Deerfield, Illinois, where I enrolled in the Masters of Divinity program at Trinity Evangelical Divinity School. As our moving truck crossed the state line between Florida and Georgia, I declared myself a Presbyterian; upon arriving in Illinois, we eventually began attending services at Lakeview Presbyterian Church, a small PCA church where we were the only African-American family. Talk about culture shock! The adjustment period was significant and not without its difficulties. My wife and I had decided that we either were going to be driven by a pursuit of truth or a desire to remain in our comfort zones. Where the two clashed, we knew we must be driven by theological conviction.
We have not looked back. We have had no need to. While I cannot pretend to have found a perfect Reformed community, I have indeed found what I had craved my entire Christian life: "a reason for the hope that is within me." In the Reformed understanding of Christianity, I learned that God has wisely incorporated our earnest efforts in the process of sanctification. Sanctification is a work God himself undertakes in believers' lives, lives in which we progressively grow in holiness as we die to sin over time. As I apply myself to the Bible, prayer, and communion with the saints, I am ever to be dependent on God alone. I rejoiced to learn that my sanctification is as much by faith and a product of the death of Christ as the justification that brought me forgiveness. I also gained a clear conception of what God is up to in his world and in my life. He is graciously summing up all things in Christ, who as God will reign eternally over God's creation, which includes his people. I learned that a day is coming, born of the obedience of Christ unto death, when all the demonic powers and world of unbelieving men will be cast into the lake of fire. God has purposed to purge and purify this very sinful world and bring into existence a new heavens and new earth wherein dwells righteousness—eternally devoid of sin, suffering, or death. I have discovered something that doesn't diminish the deep pain and travail of the world as it groans under the burden of personal and corporate sin, but that in the face of the sufferings of this present time still offers real hope that doesn't disappoint. This has given my life richness, my faith solidity, my mind inexhaustible wonders, and my heart the deepest joy imaginable.
With this understanding, I was enabled to answer God's call on my life to enter the gospel ministry, endeavoring to serve God's people and God's interest in the world. In God's good providence, I have been settled at Soaring Oaks Presbyterian Church in Elk Grove, California, and brought into connection with several likeminded African-American brothers in the faith, who, while the individual paths walked may differ, know well "the trouble I've seen."
Glory Road
Copyright 2009 by Anthony Carter, Ed.
Published by Crossway Books, a publishing ministry of Good News Publishers
1300 Crescent Street Wheaton, Illinois 60187
All rights reserved. No part of this publication may be reproduced, stored in a retrieval system or transmitted in any form by any means, electronic, mechanical, photocopy, recording or otherwise, without the prior permission of the publisher, except as provided for by USA copyright law.
Have something to say about this article? Leave your comment via Facebook below!
advertise with us
Example: "Gen 1:1" "John 3" "Moses" "trust"
Advanced Search
Listen to Your Favorite Pastors