He Started the Whole World Singing
Gloria Gaither, Author
Monday, November 29, 2004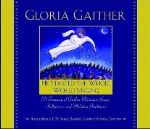 Before the song started, the world brokenhearted,
Was dreamlessly passing the long, empty days;
Then a dark, lonely hillside was spangled with light,
And a song burst into the night!
A new Word was spoken, and chords that were broken
Wove gently together to make a new song.
It was more than a carol to greet the new morn
For the Source of all music was born!
He started the whole world singing a song.
The words and the music were there all along!
What the song had to say was that Love found a way
To start the world singing a song!
Lyric:  Gloria Gaither
Music:  William J. Gaither and Chris Waters
Copyright © 1982 by Gaither Music Company and EMI Blackwood Music Company.  All rights reserved.
He Started the Whole World Singing
New York at Christmas is unlike any other place on earth – a candy store for the senses.  Already uniquely diverse and stimulating, at Christmastime the city assaults you with lights, smells, and sounds at every turn.  Hot dog vendors, pretzel makers, and chestnut roasters send aromas into the chilly air.  Speakers flood the street with music from the doorway of every restaurant and store.  The sides of skyscrapers illuminate the skyline with symbols of the seasons painted in colored lights.  The designer-arranged store windows of huge department stores are so amazing that people line up to take pictures of them.
At Rockefeller Center, the world-famous Christmas tree, sparkling with thousands of lights and ornaments, towers over the skaters who glide across the ice-covered square flanked by enormous golden angels.
A horse-drawn-carriage ride at night through Central Park with someone you love is magical enough, but should the snow start to fall while you're wrapped cozy and warm in coats and lap blankets, you have the chance to experience one of the  most romantic hours of your life.
Because our anniversary falls on December 22, Bill and I have celebrated a few times in New York.  We love to eat in our favorite restaurants uninterrupted by phones, and then take in a great play or musical.  Afterward, we walk around Manhattan and Times Square, just like a couple of kids from some small country town in the Midwest – which we are.
One night at Christmas, we were eating in the grand old German restaurant called Luchow's.  The place was decorated with ancient ornaments and garlands that looked as if they had actually come from Germany years before and had been some family's treasure.
An aging polka band played there then, and people who knew how got up to dance the polka.  But it was Christmas, so the band played Christmas carols to people's requests and as they played, guests began to sing along.  We couldn't help but join in.  There we were, in the middle of a city with a reputation for being secular and politically correct, singing with folks we'd never met:  "Joy to the world, the Lord has come!  Let earth receive her King …"
One after another, those dining requested their favorites, and around these well-worn songs, instant community was created.  People grinned at each other as the parts were added, and sometimes applauded when the song was over.
After the singing subsided and the band went back to playing traditional German pieces, Bill looked at me and said, "Well, at least He got everyone singing, didn't He?"
The next night, we had tickets to the Radio City Music Hall Christmas show.  This is always an incredible production, and the performance was spectacular – from the Sugar Plum Fairy to Frosty the Snowman and Rudolph the Red-Nosed Reindeer, everything to delight a child appeared bigger than life.  The dramatization of Virginia's letter to Santa and the classic "Yes, Virginia, there is a Santa Claus" letter returned to her from the New York Times left even the hardest of hearts wishing every child had someone to be Santa for them.
Have something to say about this article? Leave your comment via Facebook below!
advertise with us
Example: "Gen 1:1" "John 3" "Moses" "trust"
Advanced Search
Listen to Your Favorite Pastors