Heavenly Places
Kimberly Cash Tate, Author
Tuesday, March 25, 2008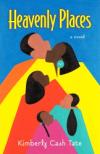 Sometimes I wonder if time has exaggerated it all in my mind. Was it really that bad? But then I remember the utter sadness that would overtake me afterward, how I would cry someplace alone because once again I'd felt the sting of a brush-off. I cried, too, because of the reason. It wasn't that they didn't like me, in the sense of judging some aspect of my personality. They simply gravitated to their own, and I wasn't one of them. They were various shades of fair with naturally straight hair and eyes the color of pools. I was milk chocolate with hair that grew—I was thankful—but needed help to get straight, and I had regular old dark brown eyes, too far on the other end of the spectrum to be one of them.
So by force of circumstance, and other more painful circumstances in my own family, I gravitated as well, further and further inside myself. I could never shake the burden of caring what people thought of me, but by college the hunger for interaction had turned cold. I didn't look for friends; my focus was grades. In law school and then in the working world, the essence of that focus never changed. I was driven to succeed—yes, to prove myself. I had a vision of what I wanted to do and who I wanted to be, and where I wanted to be. It had to be a posh community, an established posh community. Every major city had one. And any major city would have been fine, except the one I was from—the District of Columbia. I never intended to return, not to the city itself nor anywhere in the Maryland-Virginia vicinity.
Since Hezekiah knew I wanted nothing to do with my former home, and since we found ourselves relocating there nonetheless, I figured he could at least let me choose the county. He didn't, which meant a debate ensued—a good one, between my P.G. County-born-and-bred husband and me.
It was largely one-sided. Hezekiah refuted each of my points with only one?the cost. "We can get more for our money in Prince George's County," he insisted. I had my rebuttal at the ready.
"We can get more for our money in Chevy Chase too," I said. "Instead of square footage, the 'more' is prestige. It matters where you live. A premier address speaks volumes."
"Really," Hezekiah indulged, pulling his chair closer, hand lovingly upon my knee. "And what does it say?"
"Success. Significance. That we've risen to a higher level."
"I don't need a house to tell me that. God already did." Smiling, eyes penetrating.
"Hezekiah, the 'speaking' is not to you, it's to others."
"Oh, why didn't you say so?" His half-chuckle was ominous. "We could've dispensed with this issue long before. The P.G. house—the one we can build from the ground up, the one that would be more spacious than any on your list—wins hands down because it's smarter. It speaks to me. At one hundred thousand dollars less, it's calling my name."
That was it. Here I am. Unpacking. In Prince George's County. And I'm about to scream because I haven't been here but a few hours, movers still carting in boxes and beds, and some woman, a neighbor no doubt, has already stepped into my foyer.
"Hello?"
There she goes again. I am in the kitchen, rhythm broken, arm in the air, hoping the sudden silence sends this message: Get the hint and leave. I am not in the mood since I haven't even come to grips with being here. I certainly don't want to be bothered with a stranger who has the nerve to just walk up in my house. Granted, the door is open, but she's a trespasser nonetheless.
"Hi, is anybody home?" the persistent voice sings out.
"Take a guess," I sing back under my breath.
I resume work, pulling tightly packed swirl-accented glassware out of a box, unwrapping them, and lining them along the countertop to await a turn in the dishwasher. Quietly. I'm trying not to crumple the packing paper too much, resenting the fact that I can't. Why would the woman drop by at such an inopportune time anyway? She couldn't even wait for the moving truck to pull away.
Have something to say about this article? Leave your comment via Facebook below!
advertise with us
Example: "Gen 1:1" "John 3" "Moses" "trust"
Advanced Search
Listen to Your Favorite Pastors