Heavenly Places
Kimberly Cash Tate, Author
Tuesday, March 25, 2008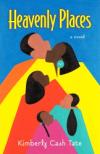 A glass slides too quickly from my hand, making an awful ping as it catches the counter. I cringe, casting a furtive glance in the direction of the front door. I know she heard it. The kitchen sits a good distance from the entryway, tucked at the end of a slightly curved hallway, but that curve apparently does nothing to deflect sound. Her "Hello" was clear as a bell; my blunder had to be as well. I bet she'll follow that ping and find me here. I bet she's like that.
My eyes begin bouncing around the kitchen, hating the impression this will make if she sees it. It's a mess—boxes and contents of boxes everywhere. I know that she knows that we are in the process of moving in, but what does that matter to my central nervous system? The thought of receiving a visitor in here right now is enough to make me hyperventilate. I need things in place, special dishware and collectibles perched behind lighted glass-front cabinets. I need countertops cleared of everything but the items strategically placed there, for neatness' sake and for the sake of the tiny flecks of gold in the granite, just waiting to pop out and align themselves proudly with the burnt gold on the walls. It would be nice if one earthen-colored square of floor tile were visible, real nice if one could see the decorative tile pattern around the base of the center island. Definitely need a seasonal floral arrangement on the kitchen table, not that unsightly heap of mechanics' tools that haven't made their way yet into the garage.
And me. I'm a mess. Makeup's faded, I'm sure. Nails chipped. Hair has no life, just hanging limp past my shoulders. And I'm wearing a sweatsuit, which I would wear only around the house, and that rarely, when I need to roll up my sleeves and work, like today, not in front of anyone outside of my family, and certainly not someone I am just meeting. When people do happen into my world, I have to be prepared so everything can be just right. Whatever I can make beautiful—my house, my hair, my clothes—I'll strive every time to do it. Helps me to feel good about myself, and even then it's hard.
I tilt my ear sideways. Haven't heard her in a couple of minutes. Maybe she won't walk back here after all. Maybe she's gone. A sigh escapes as I relish the thought.
"Hi, my name is Hope. My mommy's in the kitchen."
I groan at my five-year-old's annoying bent for hospitality.
"Hello, Hope, I'm Carmen Nelson. This is my daughter Stacy, and the baby's name is Malcolm."
What? Did she bring the whole family? My eyes flash to the ceiling and ricochet down. All I can do is beat a path to the foyer before Hope escorts her back here. The foyer is a much better option. Not much clutter there, so I won't feel mortified the entire time we're talking, and there's nowhere to sit, which should keep it short. I can't do anything about me, though.
Swiping a hand through my hair, I move my rubber soles quickly down the hall along the bamboo hardwood and into the domed entryway. I see her, illumined by a single ray of sun cast through the upper Palladian window. It complements her honey-nut complexion, which is the first thing I notice—where someone sits on the spectrum. She's not on my end.
I muscle a smile and extend my hand. "Hi, I'm Treva Langston."
Carmen tightens a one-arm grip around the baby and shakes my hand with the other. She's wearing blue capri pants, a blue-and-white striped shirt, and Keds over bare feet. Her hair, pulled softly into a ponytail angled behind the ear, matches the color of her skin. I can't tell if the hair color or the texture is natural. Eyes average brown. About five-five and in good shape, given the baby in her arms. She looks youthful and energetic. Peppy.
Have something to say about this article? Leave your comment via Facebook below!
advertise with us
Example: "Gen 1:1" "John 3" "Moses" "trust"
Advanced Search
Listen to Your Favorite Pastors