Heavenly Places
Kimberly Cash Tate, Author
Tuesday, March 25, 2008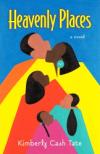 "Hi, Treva. My name is Carmen," she says, and introduces her two children, both browner than she, the baby a much darker brown. He must take after the father.
Hope tugs at my arm, her rounded face animated with delight. She whispers, "Mommy, Stacy's my age. She's five."
I give Stacy a smile and notice that she and Hope are about the same medium brown—another habit, comparing shades—all while quickly smoothing Hope's flyaway hairs. She has several long braids, and none of them have been redone in days. I don't know when or why she threw on these mismatched clothes—red shorts and a pink shirt with blue flowers—but I sure wish the boxes to her room had not yet been delivered. The girl loves to go digging in her clothes and pull out who knows what. And look at Stacy, wearing a cute pink sundress with cute pink sandals and a cute pink ribbon in her freshly combed hair. I glance up the spiral staircase, hoping my other two daughters remain hidden. They're older than Hope, and more particular about their appearance, but I don't want to take a chance. The two of us look bad enough.
"I hope we're not disturbing you too much," Carmen says. "We saw a moving truck down the block and thought we'd walk down and welcome you. Your husband is so nice. He talked with us outside and told us to go on in and call for you."
"Oh, really?" Why am I not surprised?
And now that I know she's seen Hezekiah, I'm even more self-conscious. I'm self-conscious whenever someone meets him first. Hezekiah's skin is so light that I know people expect his wife to be, well, not so dark. I've seen the subtle double takes when I walk up to him at a gathering and he introduces me. Now, it could be my imagination. Hezekiah says my upbringing has caused me to read color into too many situations. But I might be right too. They might actually be thinking, How did those two get together? Or even, He could have done better. I wonder if Carmen did some shade-comparing of her own.
She smiles. "This is a great neighborhood, isn't it?"
I give a slight nod to avoid stammering.
"I love the green space and the mature trees," Carmen is saying. "It's so serene. You'll find it has an old-fashioned feel because the developer kept the lots to a minimum. People actually talk to each other, you know?" The baby whimpers, she switches him to another hip, fishes a Winnie-the-Pooh pacifier from a small shoulder bag, sticks it into his mouth, and continues on. "Last week a neighbor stopped by to say hi and brought homemade cookies because she hadn't seen me around in a while. Wasn't that sweet? She wanted to know if I was all right. Lots of good people around here. I really like it; reminds me of my hometown in North Carolina."
Hope and Stacy hopscotch across imaginary squares, a needed distraction as I reach for something beyond a visceral response. This might be Hezekiah's cup of tea but it sure isn't mine. Folk dropping by at will. Random acts of kindness, accompanied no doubt by expectation of reciprocity. Thrilling. What's the use of a gated community if the irritants live within? I'd prefer privacy to cookies.
Seems I don't need a response. She's still talking.
"The woman a few houses down from you is from North Carolina too, Winston-Salem. Real nice, you'll like her a lot. Where did you move from, Treva?"
"From the Chicago area."
"Oh, where in Chicago? I'm a little familiar with it."
I watch Carmen step further inside the entryway, afraid she'll plop the baby down any second and make herself at home. "In Evanston, North Shore."
Have something to say about this article? Leave your comment via Facebook below!
advertise with us
Example: "Gen 1:1" "John 3" "Moses" "trust"
Advanced Search
Listen to Your Favorite Pastors