Heavenly Places
Kimberly Cash Tate, Author
Tuesday, March 25, 2008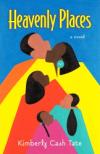 I was leaving all of that and heading … nowhere. No, not nowhere. Heading to unemployment, which is a definite somewhere, a horrible somewhere. I had thought surely by moving day that I would have secured a fantastic position at a D.C. firm. That assurance had to be what buoyed me throughout the building process. But that very last day in Chicago, another three-line form letter had arrived from a top firm telling me that they were not hiring. The enormity of it all struck me as I stood in the middle of the kitchen floor. I couldn't go without a desperate last stand.
"We can't leave," I said simply.
The car was loaded and Hezekiah had come to check on my whereabouts. Tired from cleaning the house and the garage, with a ten-hour drive in front of him, he simply looked at me, so I said it again. "We can't leave."
"Treva, we've gone over this a million times," he said. "Our house is sold. The truck is packed. The car is running. Let's go."

"Hezekiah, it's not too late. You know it isn't. Northwestern would take you back as a professor in a minute and my firm would do the same for me. We could find a house to rent until the Maryland house sells, and it should sell fairly easily since we got one of the last lots. What do you think of that house for sale over on Sheridan? It's old but we could update it like we did this one, and we could—"
"Treva," Hezekiah said calmly, "the girls are in the car. Take the time you need, then come on."
I barely said a word the entire ten hours. If I wasn't asleep, I was pretending to be asleep, the darkness a fitting serenade to my misery. By the time Hezekiah pulled into our new driveway, the sun had dawned bright and strong, but for me, it was still night.
I growl a sigh, unpack another plate, and sling it into the dishwasher, daring it to break. God, what am I doing here? Why in the world did You let Hezekiah move us from Chicago? I was blossoming there, on track with my life. And if I had to come back, I could have at least returned triumphantly. Why have I been uprooted and stuck in barren soil? Nothing makes any—?
"Hey, Treva, guess who I found outside?" Hezekiah yells.
I jerk from my thoughts, gasp with knowing, and scurry to the foyer, feet flopping in tennis slides.
"Heyyyyyy!" My younger sister, Jillian, and I scream, hug, rock back and forth, look each other up and down, and scream again.
"Jilli, look at you; you look great!" And she does. I've known her all of her life and I'm still struck by her beauty. It doesn't matter what she wears—she's standing here in denim walking shorts, a rust colored T-shirt, and basic brown flip-flops, no makeup—she always shines.
Jillian was the sought-after one growing up, the one who blended in—her features a straight hand-me-down from our mother. The contrast never came between us; Jillian was my closest friend. But obviously, there was a contrast, and my mind, ever active, pointed it out on occasion. Like now, as I notice the slightly wet, wavy ringlets atop her head. That was one thing, well, one of the things, I couldn't help but envy—her wash-and-go hair.
"When did you cut your hair off, Jillian?"
"Girl, two years ago. And look at yours. You've let it grow long. Turn around and let me look at you."
I shrug and turn reluctantly. "Nothing to look at. I'm bummy today."
"Please. You don't know what 'bummy' is. Those are the cutest capri jogging pants I've ever seen, and the fuschia Tee looks great with the fuschia piping on the pants. And I see you're still working out. Got the tight everything going on. You'd better not say anything about my rear."
Have something to say about this article? Leave your comment via Facebook below!
advertise with us
Example: "Gen 1:1" "John 3" "Moses" "trust"
Advanced Search