Heralds of the King
Dennis E. Johnson, Editor
Thursday, July 23, 2009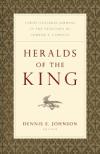 EDITOR'S NOTE: The following is an excerpt from Heralds of the King by Joseph V. Novenson (Crossway).
Living with a Gap
Genesis 17:1-14
Introduction
This message was first preached in Lexington Presbyterian Church in Lexington, SC, as a portion of a Genesis series. It so caught my own heart and mind that I have returned to it to "mine" the riches of the text again and again.
This message has since been delivered in various contexts and edited according to those with whom I would be studying the passage. Believing the issue of living with this gap between our condition and God's calling is an important and oft disregarded reality of Christian living, I have spoken on this topic to Christian educators, to graduates from theological institutions, to parents who are trying to be faithful in their role of discipling children, to student service providers in academic institutions from around the country, and to university students in various contexts. The responses to the sermon have been mixed, but Christians' identification with a gap and accompanying spiritual and personal ambiguities has been fairly consistent. Believers in Christ seem consciously or unconsciously beleaguered by a growing sense of the enormity of the gap in virtually every context within which we serve. This consistency has served as a bit of a test. I have found this true both within contexts sympathetic to the Reformed tradition and those quite cynical about it. The soul cries out for sovereign grace that the redeemed sinner knows he or she cannot live without, even when the intellect scoffs at its particularities.
I found in Edmund P. Clowney a model of the Christlikeness commanded in Genesis 17 both in his preaching content and in the life he lived, and this made listening to his lectures and sermons stunningly compelling. It was his pleasure in the Old Testament's wonderful disclosing of Christ that I found most compelling. I remember him taking a passage in which I saw little or nothing of my King; and then faithfully he opened it in a way consistent with the text, consistent with the larger story of the narrative, and consistent with all of Scripture—portraying Christ in such a way that I was at times breathless and unable to take notes in class or in worship when he was preaching. I remember going up to him one time after a lecture that had left the realms of academia and entered the glories of preaching. My notes literally degenerated from sentences and concepts connected with the progress of his exegesis, to simply writing, "Glory! Glory! Glory!" When I went up to Dr. Clowney, I simply said, "Please don't give us a test on the lecture today because I couldn't take notes. I was too busy worshiping in light of the Scripture." He simply smiled knowingly as if to say he, too, was equally blessed by the privilege of being taught by the Word of God that he had simply been permitted to expound before us.
I always sensed that Dr. Clowney saw himself as a privileged steward of the mysteries of God. He regularly seemed amazed that he too had been entrusted with the unspeakable glory of preaching, though he never felt worthy in himself to handle the Word of God. He modeled before me this posture: he knew he could not preach the Word without the help of grace through the Spirit's ministry. That overwhelming sense of privileged delight was evident in him and magnetic for me.
I suppose Dr. Clowney's love for the redemptive historic model of preaching is rather well known. But the man himself, whom such a vibrant grasp of truth produced, has perhaps influenced me more than the manner of exegesis and homiletics that he taught.
Have something to say about this article? Leave your comment via Facebook below!
advertise with us
Example: "Gen 1:1" "John 3" "Moses" "trust"
Advanced Search
Listen to Your Favorite Pastors