Heralds of the King
Dennis E. Johnson, Editor
Thursday, July 23, 2009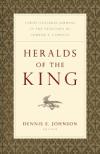 He possessed, however, so much affection for his people, and zeal for their best interests, that the defect of his manner was of little consideration with his constant hearers. At the same time, his capacity, and habit of entering into their trials and experience, gave the highest interest to his ministry among them. . . . The parent-like tenderness and affection which accompanied his instruction made them prefer him to preachers who, on other accounts, were much more generally popular. . . . His ministerial visits were exemplary. I do not recollect one, though favored with many, in which his general information and lively genius did not communicate instruction, and his affectionate and condescending sympathy did not leave comfort."6
In other words, John Newton ministered in a familial way to his flock. John Newton himself commented on his manner of gently and lovingly ministering to people even from the pulpit, relative to his peers: "Perhaps it is better to feed our people like chickens, a little and often, than to cram them like turkeys, till they cannot hold one gobbet more."7
How this approach might well temper our pulpits and blogs and lectures as we expound and apply the Word of God in the Father's church! The familial purpose should be evident in all we do!
O Jesus, forgive our antiseptic professionalism and scholastic sterility!
God Gives the Always-Transforming Servant a Universal and Eternal Purpose Abraham is not only redefined by his impact on others and commanded to do so in a familial way; he is to do so without accepting any cultural, racial, linguistic, or social barrier whatsoever. The impact that God's kingdom advance is to have upon the world is universal. It is in the DNA of God's kingdom people to be omnicultural.
In Genesis 17:4, we read that Abraham is to be "the father of many nations." This is repeated in verse 6, where he is told, "I will make nations of you." Hence, he is to be ministering in a multicultural manner, to say the very least. But in Genesis 12:3 God told Abraham, "all peoples on earth will be blessed through you." We see Abraham's calling as not only multicultural, but it is omnicultural. For Abraham to live in a parochial, self-absorbed, monocultural manner would betray the transforming work of God's advancing kingdom. Every human and sin-made barrier must fall before God's advancing kingdom. Babel's dispersal will be undone by God's grand reversal.
This means that the late missiology professor of Westminster Seminary, Dr. Harvey Conn, was right when he said, "The kingdom of God is not uniform, but unified." Cults are uniform, but the kingdom is unified. This multinational view is so prominent, that when God speaks in Genesis 25:23 about the children inside of the beloved Rebekah's womb, he does not say there are two children within her. He says, "Two nations are in your womb."
This omnicultural ministry, empowered by God, is also eternal. Genesis 17:7 calls this promise of such empowering grace from God to love and serve every nation "an everlasting covenant." Verse 8 promises "everlasting" placement on the earth. Verse 13 identifies the sign of this promise as "everlasting." There is therefore, no "plan," no exceptions, no options or alternatives . . . now or ever.
What a privilege! What an honor it is to be placed into the longest standing, most multilingual, multinational, multiracial, multicultural organization in the history of the cosmos, the kingdom of God! This kingdom will be among God's tools to heal the cosmos, and you and I are placed in it! This alone should thrill us and motivate us by glorious privilege to passionate obedience and service.
This provision of God means that the slightest hint of racism is hereby condemned as abject heresy among God's people. Monocultural or single race supremacy of any kind is an aberration. Cultural elitism is a contradiction of our kingdom calling, both then and now, because God's people are to participate in a kingdom that is universal, and this intent of God is eternal.
Have something to say about this article? Leave your comment via Facebook below!
advertise with us
Example: "Gen 1:1" "John 3" "Moses" "trust"
Advanced Search
Listen to Your Favorite Pastors