Heralds of the King
Dennis E. Johnson, Editor
Thursday, July 23, 2009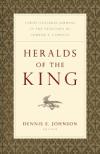 But the truth of this statement is measured by this: The emphasis in raising my first two children was far more upon our rule-keeping than upon the Savior reigning. It was far more upon obedience than it was upon delight in a sovereign, electing salvation. It was far more upon externals than it was upon internals. It was far more upon acting so that I would respond to them favorably than on their believing so that faith would immensely deepen them in obedience. It took me three children before I became more faithful to God's covenant and its sign in the way that I saw family and marriage and parenting. How about you, Dad or Mom? Are you "cross-eyed"?
Failures like us are called and commissioned because the cross is sufficient. Remember! Remember! That's the reason for this sign. God will advance his kingdom as the gospel is made clear for the forgiveness of sins to the sinner and the magnification of Christ's work is made vivid to the broken. We are to constantly think of the perfection of saints by imputed righteousness, or we'll give up. Even in physical places where most folks don't consider Christ at all. We must remember the gospel! Then the self-reliant human heart will beat out a rhythm that stops being utterly contradictory to sovereign, electing grace. That's what circumcision was to teach. If we as failed servants are covered by grace, we should be the biggest, fastest, deepest repenters the world has ever seen.
Conclusion
There is peerless privilege to be savored by us who have been so graciously rescued, when these ways of God's advancing his kingdom are graciously given us. It is much like purchasing tickets for your very favorite musical performance with a favorite artist. Perhaps it is a classic, Celtic, folk, jazz, or bluegrass concert. No matter. You have invested a significant amount of money, and you're still only in the "nosebleed seats" in the third balcony. Imagine, for the sake of illustration, in the midst of the concert, the performer you so enjoy and have finally come to see in person addresses the audience just before the intermission with the following words: "Is the following person here?" and then the artist says your name. Just imagine the shock and even terror that might course through your heart and mind, having heard your name coming from his or her lips in that massive auditorium. This would probably be paralyzing. But then imagine that the performer whom you so deeply love and profoundly respect says the following: "I know you're here. I know you bought a ticket. I made sure you got that ticket." A spotlight begins to sweep through the entire audience until it finally locates you sitting in the balcony. Your sense of embarrassment is now almost intolerable, and then the performer who has captured your heart and imagination for so many years affectionately says these words to you: "There you are. I am so glad I found you. I would like to invite you to come down onto the stage to play and sing this next song with me!" Can you even imagine the swirling sense of terror, privilege, and joy that would course through you?
May I tell you something even more marvelous that has happened? The living God has turned to you, Christian, weak and broken sinner that you are, and called upon you to sing the music of the gospel before the entire world. His electing grace has sovereignly found you and made you his own; and he has now commanded you to sing a "life music" that is familial and universal, unstopped by racial or social barriers, a melody that is driven by a gospel attention that is life-constraining. He wants you to play his song before the world. Do you sense the privilege? You see, you and I will never play the music of his kingdom any better than a middle school band member plays Beethoven's Fifth Symphony. Have you ever listened to middle-schoolers play Beethoven? Someone has said wisely, "It's music only a father could love."
The miracle is, the Father does love the music that you sing, and he will actually change the world when people hear you singing the song. He will make sure they hear his message in your song. Welcome to the "band," fellow follower of the Most High God! Take your place in his orchestra with a fresh sense of his full provision, and play with pleasure!
Have something to say about this article? Leave your comment via Facebook below!
advertise with us
Example: "Gen 1:1" "John 3" "Moses" "trust"
Advanced Search
Listen to Your Favorite Pastors