Heralds of the King
Dennis E. Johnson, Editor
Thursday, July 23, 2009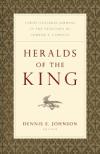 Before we examine God's four provisions in Genesis 17, we should note that for Abraham it has been over twenty years since God promised that Abram and Sarai would have a child. The delay itself must have been difficult. Don't we find God's delays enough grounds for our sinful selective disobedience, accompanied by our assumed impunity from guilt? We say "God, you just are never on time! So I'm going on a little 'vacation' from obedience!" And we do so only because our schedule is different from God's.
Also, Abraham is no longer a young man. He was over 86 years of age as chapter 16 came to a close. Again, don't we rationalize regular extended "vacations" from passionate obedience by assuming, in our spiritual weariness, that our past faithfulness has "earned" our right to coast for a little while, drop our guard, and just barely comply with God's commands? None of this is said to excuse Abraham, but it may cast light on some of the choices that he made. You and I have more in common with him than either he or we would want to admit.
Ask yourself whether the pressures that are upon you have heightened your own awareness of the gap between your human condition and God's calling, and thereby increased your desire to cry out for God's provision. Or, on the contrary, do you increase your accusing of the Lord, implying that your circumstances are really God's own fault and failure? Perhaps you, like me, are never quite so ruthlessly direct with the King about your rationalized sin. Still, search yourself and ask, "What pressures are there to which I yield and then rationalize disobedience and distorted thinking?"
God's Kingdom Plan Revealed
Now let's examine God's provision for advancing his kingdom through people like us, despite our deep corruption.
God Provides Peerless Power to Advance His Cause
Moses introduces the covenant with God's words, "I will confirm my covenant between me and you and will greatly increase your numbers" (Gen. 17:2). Abram then responds in verse 3 by falling face down. God then says to him, "As for me, this is my covenant with you . . ."
God follows that statement with a series of twelve affirmative and definitive statements: "I will, so . . . you will . . ." again and again! There could well be an exclamation point after each declaration of God's promised power.
The sheer repetition is like a rhetorical jackhammer blasting away upon the hardened, self-reliant heart previously shown by Abraham and evident in all humanity. Although God makes the positive statement, "I will, so . . . you will . . .," twelve times, God could just as well have said it negatively, "You can't, you won't, you shouldn't, and you wouldn't." This is a declaration of sovereignty and a clear affirmation of God's utter power. It also makes me think of a baseball outfielder waving off the teammate soon to collide with him as both reach for the pop fly, repeating a cry in the outfield heard even in the stands; "I got it! I got it! Mine! Mine!" God is saying exactly that to Abraham: "I got it! I got it!" He waves Abraham and you off! Did you hear him? Did you? Or are you still trying to make the catch on your own? Do you feel the chest-heaving exhaustion beginning to cripple your self-centered effort?
Let's apply this more expansively from beyond the text. A quick summary of Scripture reveals that God often discloses the immensity of his peerless power for the sinners whom he has redeemed at the very moment that their corresponding poverty of human ability is most evident. Still, sadly, we choose self reliance and hustle! Yet God seems to time the disclosure of his provided power just in the nick of time.
One example of this paradox may be found as Stephen is about to be stoned in Acts 7. As the soon-to-be martyr nears the moment of unimaginable pain at the hands of unjust treatment, God tears open heaven and gives him a vision of heaven's courtroom with Stephen's Lord rising to his defense, to sustain his faith as he is crushed in utter weakness beneath stones thrown viciously by a crowd gone wild with rage. God tilts Stephen's chin up as if to make him look at the real and final courtroom, the right and accurate judgment, and the righteous and truly powerful Judge rising in his behalf, lest he languish in a foolishly narrow view of life in all its horrible fallenness. God calls Stephen, like Abraham, to behold his peerless power in the midst of human sin.
Have something to say about this article? Leave your comment via Facebook below!
advertise with us
Example: "Gen 1:1" "John 3" "Moses" "trust"
Advanced Search
Listen to Your Favorite Pastors