Heralds of the King
Dennis E. Johnson, Editor
Thursday, July 23, 2009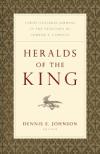 God Provides Peerless Transformation to Perfect His Servants
God transforms his people first in their person and then in their purpose.
Genesis 17:1, God's covenant disclosure, begins with a command, preceded by a weighty self-identification by God: "I am God Almighty; walk before me2 and be blameless."3
This is a command for peerless transformation. "Blameless" is the English translation in the NIV for tamim in Hebrew. Variously translated elsewhere "whole, complete, finished, not missing any essentials," this is a startling command. How can God give such a command to a man who for many previous years has shown himself to be anything but "tamim"—anything but blameless, whole, and complete? In fact, Abraham has shown himself to be personally and repeatedly missing faith, integrity, courage, consistency, and obedience.
God shows his answer to this problem in several ways.
First, Abraham has been commanded by one who has just identified himself as "God Almighty." Let's paraphrase God's opening words: "Because I am who I am, all powerful, I command of you to do what you cannot do and to be what you cannot be. For I can and I will give to you that which you do not have so you will be tamim. You will be tamim because I command it."
This can be likened to Jesus commanding Lazarus to "come forth" from the tomb, though Lazarus had been dead for days. Abraham has spiritual death oozing from almost every choice he's made. His middle name, spiritually speaking, is often "Rigormortis." He is and ever will be "anti-tamim". . . unless Someone else has the ability to transform his person, to make him what he cannot be in himself.
This is where the gospel floods him with grace. The apostle Paul addresses this very issue and uses Abraham as his primary illustration when he argues for imputed righteousness provided by Almighty God, who is absolutely just and the perfect justifier when he leaves "sins committed beforehand" by people like Abraham "unpunished" and finally punishes Jesus fully for them in the atoning death of Calvary:
But now a righteousness from God, apart from law, has been made known, to which the Law and the Prophets testify. This righteousness from God comes through faith in Jesus Christ to all who believe. There is no difference, for all have sinned and fall short of the glory of God, and are justified freely by his grace through the redemption that came by Christ Jesus. God presented him as a sacrifice of atonement, through faith in his blood. He did this to demonstrate his justice, because in his forbearance he had left the sins committed beforehand unpunished—he did it to demonstrate his justice at the present time, so as to be just and the one who justifies those who have faith in Jesus.
Where, then, is boasting? It is excluded. On what principle? On that of observing the law? No, but on that of faith. (Rom. 3:21-27) What then shall we say that Abraham, our forefather, discovered in this matter? If, in fact, Abraham was justified by works, he had something to boast about—but not before God. What does the Scripture say? "Abraham believed God, and it was credited to him as righteousness." (Rom. 4:1-3)
Paul says it explicitly, though not using tamim, when he writes that Abraham was "credited" with righteousness—that is, accounted as tamim—by God Almighty. Without the gospel, God's command to Abraham is an utter impossibility for a wretch like him—or you, or me. In fact, any command without gospel-given grace can never, ever be kept by a sinner, even a redeemed one.
Think about the grand plan of God in Eden. Pre-fall humans were designed to obey in the context and condition of perfect tamim with God. We have lost that "completeness" due to sin. But in Christ and in Christ alone, Abraham and you are given tamim. Through grace imputed to you once-for-all by the Father and through grace infused by the Spirit, you can and finally do love truth and actually start to want to sacrifice, and even sense a beginning growth toward real honor. We develop yieldedness and surrender to God's kingdom cause, and all because of that imputed righteousness and the infused grace that follows from it. Soon, we find ourselves not merely admiring William Wilberforce, or Amy Carmichael, or John Paton, or Mother Teresa. We yearn with tearful passion to be like them.
Have something to say about this article? Leave your comment via Facebook below!
advertise with us
Example: "Gen 1:1" "John 3" "Moses" "trust"
Advanced Search
Listen to Your Favorite Pastors