Heralds of the King
Dennis E. Johnson, Editor
Thursday, July 23, 2009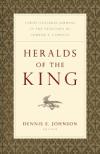 Within our study of Genesis 17, Abraham's name is indicative of a familial fabric of this new kingdom, for he is not named "leader of many nations" nor "pastor of many nations." He is not called "prophet, priest, or king of many nations," as important as these titles are. Abraham's title is not ecclesiastical, civil, governmental, or professional. It is clearly familial.
The covenants God makes with his people progress through family ties from Abraham, to Isaac, then on to Jacob and his sons, and to the tribes and clans that they father. Joseph rescues his brothers in familial faithfulness and affection, despite their bizarre familial trespass against him. Moses is commanded to arrange the tent city of nomadic Israel in the wilderness by tribes, which are merely big families. Joshua enters the land and divides it up familially according to tribes. The family theme continues in the Psalms and the Prophets:
Psalm 68:4-6 reads: "His name is the LORD. . . . A father to the fatherless, a defender of widows. . . . God sets the lonely in families. . . ." Isaiah 66:13 records God's poignant reassurance to errant Israel: "As a mother comforts her child, so will I comfort you. . . ." Hosea the prophet points us to God's familial way of redeeming a people at great personal loss, even when the one whom Hosea loves is reprehensible, like the Lord's wandering wife, Israel.
In the New Testament Jesus is revealed to us as our "older brother" and the "first born among many brothers," who is not ashamed to call us "brothers" and who makes us "co-heirs with him" by "adoption" into a "new family." He will conclude his redemptive restorative work with a familial "wedding feast" to which we are invited and for which we are being prepared as a "bride." James records in his epistle that true religion is "to look after widows and orphans in their distress and to keep oneself from being polluted by the world (James 1:27). True religion has a familial focus to restore broken families.
Officers in the New Testament church are required not so much to pass certain seminary courses, but rather to love and care for their families (1 Timothy 3; Titus 1). Jesus prays that the Trinitarian familial love among the persons of the Godhead, specifically between the Father and the Son, would be experientially normative among us, so we are to be as Jesus prayed: "one, Father, as you are in me and I am in you. . . . May they be brought to complete unity to let the world know that you sent me and have loved them even as you have loved me" (John 17:21-23). Jesus wants the love the Father has for the Son to be in us (v. 26).
Paul says it perhaps most directly as he connects God's familial care to ours in Ephesians 5:1-2: "Be imitators of God, therefore, as dearly loved children and live a life of love, just as Christ loved us and gave himself up for us. . . ."
Now, let's apply. The sheer weight of redemptive historic momentum shown in this brief summary casts light on Abraham's new name by giving context from a much larger picture. We simply must conclude that God is saying, "My kingdom will advance with familial treatment of people within and even outside the covenant community." Cold, sterile, professional, antiseptic, task focused, relationally distant, personally unconcerned ministry practice is inherently forbidden and contradicts the very personality of the Triune God!
Have something to say about this article? Leave your comment via Facebook below!
advertise with us
Example: "Gen 1:1" "John 3" "Moses" "trust"
Advanced Search
Listen to Your Favorite Pastors