How to Survive the Storms of Pastoral Ministry
Daniel Henderson , Author
Wednesday, January 06, 2010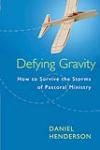 EDITOR'S NOTE: The following is an excerpt from Defying Gravity: How to Survive the Storms of Pastoral Ministry by Daniel Henderson (Moody).
Part 1: Avoiding Leadership Vertigo
Discouragement is a temporary loss of perspective. - ANONYMOUS
But you be watchful in all things, endure afflictions, do the work of an evangelist, fulfill your ministry. - 2 TIMOTHY 4:5
Unexpected Leadership Storms
Several large, complex textbooks lay open on my desk as I write this chapter. Each is used to train pilots for private and commercial instrument flight. In the early chapters these texts always address human factors. First and foremost, the pilot must understand his personal vulnerability to disorientation and human error.
Next, these textbooks deal early and extensively with the challenges of unpredictable and dangerous weather. Pilots typically do well in clear and calm conditions. Unpredictable and unanticipated environmental conditions test a pilot's skill and knowledge. Dealing with these threats is foundational to becoming a pilot. Icing, thunderstorms, wind shear, lightning, fog, and many other dynamics threaten safe flight. Pilots are required to obtain weather reports, study the atmosphere, and fly with extreme awareness and caution. Still, bad weather happens, equipment fails, and communication gets confused. Danger lurks in the skies.
Leadership is tested in storms. You may be in the midst of one as you read this book. If not, you will be soon. Storms come with leadership. The names and circumstances are surely different for all of us, but the perplexity and pain are essentially the same. You may be a pastor in a hurting and dysfunctional church or an executive who's navigating an unprecedented downturn in the financial stability of the company. You might be serving as a community leader, trying to deal with unfriendly and needless opposition.
Maybe you are trying to lead a family through a complex maze of conflict, hurt, and confusion.
Whatever the situation, leaders have to learn to navigate and survive the storms. I remember many years ago while still in college hearing a businessman say, "I pay people according to the problems they can solve and the pain they can endure." At the time, I knew the statement was profound but I had little understanding of how problems and pain were so germane to leadership. Now I understand the reality of this wisdom.
Just as pilots avoid storms by flying around them or even landing the plane beyond the thunderheads, leaders are wise to steer clear of threatening situations. But often raging storms are unavoidable. When a storm comes, leaders must know how to manage their own thoughts and emotions so they can make decisions in a way that those entrusted to their care are safe and growing toward the objectives God has established for their lives. Sadly, there are still those rare occasions when a leadership storm results in disaster for a leader, his family, and those he leads.
Holding the Black Box
In most media reports of plane crashes, we hear about the infamous "black box." Actually, this is a reference to two different instruments, normally located in the tail end of the plane. One is the cockpit voice recorder, and the other is the flight data recorder. These black boxes are essential in discovering the cause of an aviation accident, as well as providing plane manufacturers and government agencies vital information to help make air travel as safe as possible. Fireproof and impact proof, the boxes are built and located to survive a disaster, even when little else does.
I guess you could say that on two occasions I was left holding the "black box" after a leadership crash. In both cases, lessons would emerge about what went wrong and how to prevent similar disasters in the future.
Have something to say about this article? Leave your comment via Facebook below!
advertise with us
Example: "Gen 1:1" "John 3" "Moses" "trust"
Advanced Search
Listen to Your Favorite Pastors