How to Survive the Storms of Pastoral Ministry
Daniel Henderson , Author
Wednesday, January 06, 2010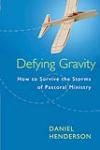 • No flight plan expects to end in disaster. Good men and women, seeking to obey the call of God and make a difference in this world, begin this leadership journey every day. They want to fly and finish respectably. Unfortunately, storms and stresses begin to take a toll. Improper self-management takes them off course. Over time, leaders can find themselves in places of discouragement and defeat they never imagined would occur.
• Many leaders don't realize when they are in trouble. In recent decades, larger aircraft have been required to utilize a piece of equipment called the ground proximity warning system (GPWS). When planes get too close to the ground or the surrounding terrain, the system provides instructions for evasive maneuvers such as "Terrain! Terrain! Pull up! . . ." along with a warning horn. This equipment has dramatically reduced the number of accidents for planes flying over unfamiliar terrain, or too close to the ground. God has provided a kind of GPWS for leaders. It is the voice of conscience, which alerts us to issues of moral compromise. But over time human beings can become dull to this voice. Many who crash are in a pattern of self-deception, flying entirely without that objective sense of how close to the ground they really are. This, again, is where objective input and the right leadership "instruments" are vital.
• God has provided everything a leader needs to stay in flight and land the leadership plane successfully. This book is really not about leadership crashes but leadership success. The key is the commitment of a leader to utilize the "instrument panel" and the related warning systems through which the sufficiency of the Word of God, the Spirit of God, and the people of God can flow into the very being of a leader to keep him in flight and on course for the good of the passengers and the glory of God.
• Leaders who experience and tolerate spiritual disorientation will crash and burn. Just as skilled, intelligent, experienced pilots flying sophisticated aircraft can become disoriented, so leaders can unintentionally get into a situation where up seems down, left seems right, and backward seems forward. Understanding the dynamics of disorientation then learning how to avoid it is vital for the leader who wants to soar. For a leader already caught in a subjective downward spiral, a dose of encouraging objectivity with a fresh vision of the "instruments" is a matter of ministry life or death.
No leader ever wants to be in a situation where he is holding the black box of a previous disaster. The pain of dealing with wounded people, shattered dreams, and devastated relationships is overwhelming. Yet, amid the rubble, God is good to instruct, heal, and restore hope.
Peter, Paul, and Learning to Soar
Of course, the greater reality is that God has given every leader everything necessary to truly soar in their influence and example. Peter, a flawed leader who was restored and empowered by the truth and Spirit of God, wrote to remind us of Christ's sufficiency for our calling: "His divine power has given to us all things that pertain to life and godliness, through the knowledge of Him who called us by glory and virtue, by which have been given to us exceedingly great and precious promises, that through these you may be partakers of the divine nature, having escaped the corruption that is in the world through lust" (2 Peter 1:3-4).
As we will see, Paul understood the reality of leadership storms. In Romans 8 he spoke of tribulation, distress, persecution, famine, nakedness, peril, and even the sword, or the threat of death through martyrdom. Quoting from the Old Testament, he testified that we are "accounted as sheep for the slaughter." (Romans 8:36). These were realistic expectations for Christ-followers in the first century, and especially for leaders. Yet, he gives us this powerful promise, "In all these things we are more than conquerors through Him who loved us" (Romans 8:37).
Have something to say about this article? Leave your comment via Facebook below!
advertise with us
Example: "Gen 1:1" "John 3" "Moses" "trust"
Advanced Search
Listen to Your Favorite Pastors