How to Survive the Storms of Pastoral Ministry
Daniel Henderson , Author
Wednesday, January 06, 2010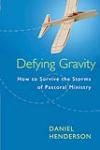 One thing I appreciate about the apostle Paul is the way in which he always kept expectations realistic for his followers. He warned them of suffering and tribulation as an essential part of the journey.
In following the sacrificial model of his Savior, Paul became very familiar with the trials and perils of genuine discipleship and leadership. Even in the moments surrounding his conversion and calling, Jesus would reveal to him "how many things he must suffer for My name's sake" (Acts 9:16). Throughout his leadership he faced persecution, mockery, and threats of death.
It comes as no surprise when Paul pours his heart out to his son in the faith, Timothy, that he reminds him of the sufferings of discipleship and the storms of leadership. In his final and very personal leadership letter to Timothy, he writes, "I also suffer these things; nevertheless I am not ashamed, for I know whom I have believed and am persuaded that He is able to keep what I have committed to Him until that Day" (see 2 Timothy 1:12). Speaking extensively again of this suffering and afflictions, he reminds Timothy and all of us of the reality that "all who desire to live godly in Christ Jesus will suffer persecution" (2 Timothy 3:12).
Of course, Paul gives a reality check in this last letter of his life as he warns leaders of the "perilous times" ahead. Using some metaphors from his own day, he urges his disciple to remain unencumbered like a dedicated soldier, play by the rules like a winning athlete, and expect a harvest like a faithful farmer (2 Timothy 2:1-7). Of course, planes and pilots did not exist in Paul's day, but I can almost hear him also say, "Endure unexpected storms like a skilled pilot."
Paul understood the risks and responsibilities of an enduring leader. He passed these perspectives on to Timothy with clarity and honesty. When we embrace these truths, we are able to defy gravity and become effective leaders.
Keys to Survive and Thrive
Let's learn the vital lessons from Paul that will help us soar in the leadership flights of our lives. Remember that Paul was speaking to a young man rattled by fear in the face of leadership challenges. He told Timothy not to give in to fear but to focus on power, love, and self-discipline.
But note the final advice Paul ever gave to anyone in recorded Scripture. He spoke it in the same breath in which he referred to his imminent death. Not only was it the key to Timothy's leadership performance but it is pivotal to our navigation of leadership storms: "As for you, be calm and cool and steady, accept and suffer unflinchingly every hardship, do the work of an evangelist, fully perform all the duties of your ministry" (2 Timothy 4:5 AMP). The New Living Translation reads: "But you should keep a clear mind in every situation. Don't be afraid of suffering for the Lord. Work at telling others the Good News, and fully carry out the ministry God has given you."
So here it is. If we are going to defy gravity and soar above the unexpected storms of leadership, it is imperative to keep a calm, clear, and steady perspective as we endure the certain suffering of the call. We must keep on course. We must be faithful to the mission assigned to us. We must complete the flight safely. Paul did. As he said, "I have fought the good fight, I have finished the race, I have kept the faith" (2 Timothy 4:7).
Paul finished his leadership flight. He endured incredible storms. He safely landed the plane. He was passionate to help us do the same.
The Discipline of Successful Flying
At 7:52 the morning of May 20, 1927, Charles A. Lindbergh took off in his single-engine plane, the Spirit of St. Louis, from Roosevelt Field near New York City. Flying northeast along the coast, he traversed Nova Scotia and Newfoundland before heading across the Atlantic Ocean, attempting history's first successful trans-Atlantic flight.
Have something to say about this article? Leave your comment via Facebook below!
advertise with us
Example: "Gen 1:1" "John 3" "Moses" "trust"
Advanced Search
Listen to Your Favorite Pastors