In Search of the Male Reader
Sarah Hamaker, Crosswalk.com Contributing Writer
Monday, July 18, 2011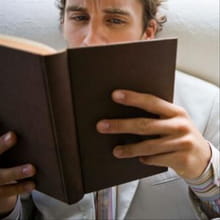 Walk into any Christian bookstore and browse the fiction section, and you might think only women read Christian fiction. The shelves are packed with titles of Amish, romance and historical books that tend to appeal more to women than to men. While Christian mystery, thrillers, suspense, military and political titles also jockey for space, women are still more likely to pick up those books than men.
But there are signs—mostly anecdotal— that may be slowly changing. In my own house, my husband, who reads little fiction in general and hasn't picked up a Christian fiction book in years, came home from the library recently with a Christian crime novel—Back on Murder by Mark Bertrand. Even more surprising, my husband read the book and liked it.
It seems that Christian men do read Christian fiction, "though we believe them to be much fewer in number than the women who buy and read Christian fiction," says Rebecca Germany, senior fiction editor for Barbour Publishing.
When it comes to Christian fiction, Christian male readers are definitely in the minority. "I keep hearing that 80 percent of Christian fiction readers are women, but that seems to be more anecdotal and less a comment based on any set of research," says Chip MacGregor, president of MacGregor Literary Inc.
Women also read more and buy more books in general. About 60 percent of Jim Rubart's readers are women, with men comprising the remaining percentage. "Men don't think Christian fiction is a male product," says the author of Rooms and the upcoming The Chair. "The reality is there is a great deal of great Christian fiction out there men would enjoy. The problem is that if a man walks into a store and it's filled with 75 percent female clothing and 25 percent male clothing, the man will usually go shop somewhere else, which is also true for Christian bookstores."
"We have genres where men might make up 40 percent or 50 percent of the readership, and other genres where they are likely less than 5 percent of the readership," said David Long, senior acquisitions editor for Bethany House Publishers. "For guys who might want to read a suspense novel or legal thriller, it's tough convincing them there are those kinds of books available. The shelves look like they are filled with Amish and historical romances and I think men have either stopped looking or are content with offerings from the general market."
But B&H Publishing Group has hope that those numbers will be on the rise soon. "We are finding there are an increasing number of men reading Christian fiction," says Julie Gwinn, manager of fiction at B&H Publishing Group. "Our sales reps are telling us that this is a growth area in Christian bookstores."
What Men Do Read
However, with so many more women readers than men, it can be difficult to publish or write books exclusively for male readers. "It is pretty easy to look at a book list or shelf and see that the main target of Christian fiction is women," says Germany. "Even those publishers who are trying to reach the male reader, still keep their main female consumer who buys for the men of her household in mind by softening covers, titles, and such more so than they might if they only expected to sell the book to men."
Have something to say about this article? Leave your comment via Facebook below!
advertise with us
Example: "Gen 1:1" "John 3" "Moses" "trust"
Advanced Search
Listen to Your Favorite Pastors