Ted Dekker: Running the Jungle, Ruling the Shelves
Stacy Hawkins Adams, Crosswalk.com Contributing Writer
Thursday, May 15, 2008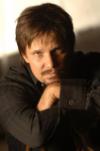 Stewarding is taking care of and nurturing. You're constantly working, almost in a business fashion, to bring about an end result, and that is understanding. You go and plumb the depths of a particular truth of God. But understanding is a two-way street: I'm understanding through my characters as much as my readers are.
A lot of writers will say, 'My task is to simply explain His love…I have something to say.' As a writer, you can't simply mimic your beliefs. We've all heard so many stories about God's love.
Why don't we take a character into a situation where he is ravaged by everything but love, and in his search for hope, he finds something—the thinnest thread—and he begins to learn something new about himself, and in the process, something new about God?
If I'm successful, it will look like magic, because it took them seven hours to read what it took me two years to figure out.
What are you hoping to give readers with a Ted Dekker novel?
I want to take readers to a place where they say, 'Oh my goodness, I can't believe he did that' and do it in a way that is palatable for Christians. I want to do it through scenes that are at once dark, disturbing and riveting, and at the same time, readers are saturated in the mysteries of God. I really like contrasting the dark and the light. When you bring hope into that context, it's noticeable and almost overwhelming. In order to have light shine, you have to have darkness into which it can shine.
Your books are thrillers, but they often evoke deep emotion in readers. Does this surprise you?
In my fan mail one of the most common things people talk about is crying while reading my books. I got an email about my book, Sinner. This guy said, 'I've never cried while reading a novel. I got up to 'x' chapters and sat down and wept for an hour.' My book, When Heaven Weeps—I dare someone to read that and not cry.
Thomas Nelson Publishers, has partnered with Chevrolet for a series of promotions around your young adult fiction, The Lost Book Series. Chevrolet has given away 10,000 copies of Chosen. There's also a book-related treasure hunt, in which a reader will soon win a 2008 Chevy Cobalt. Tell us about that.
In Chaos, the fourth book in my young adult series, (one of the characters) sees a red Chevy and it becomes part of the (storyline). We decided to work with Chevrolet, which will announce the winner of the Chevy Car Contest on May 16. That's been a lot of fun.
What does your family think about your success?
I have two brothers and one sister. I didn't write any more than the next child; I was too busy running through the jungles. They're not quite sure what to make of it.
I have a very, very supportive wife. She was quite confident in my ability to succeed. My four children (ages 11 to 22), they're kind of like my other relatives—they don't quite believe any of this. When I go to a bookstore and there's a line of 200 people, they can't wrap their minds around it. I'm their Dad.
When I finish a novel and come flying out (I'm very dramatic about all of my stuff), they're like, 'Yeah, whatever. Another novel. So what are we having for dinner?'
You have a number of books in the pipeline and write six days a week. What do you do for fun?
I ride motorcycles. I watch a lot of movies. I like movies that make me cry and stretch me in terms of my emotions. I like fantasy, because it makes me wonder. I'm like a kid in that way.
What do you hope God will say about your work when you meet him one day in heaven?
Three words would be awesome: 'We did it.' That would be so cool to me if he were to say that with a smile.
Stacy Hawkins Adams is a Christian fiction author and speaker based in Richmond, Va. Her latest releases include the novel Watercolored Pearls and a mother/daughter anthology, This Far By Faith.



Have something to say about this article? Leave your comment via Facebook below!
advertise with us
Example: "Gen 1:1" "John 3" "Moses" "trust"
Advanced Search
Listen to Your Favorite Pastors