Jimmy Carter to Correct Error in "Endangered Values" Book
Erin Curry Roach, Baptist Press
Friday, December 16, 2005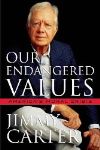 NASHVILLE, Tenn.— Former President Jimmy Carter has agreed to correct future editions of his recently released book, "Our Endangered Values," after James A. Smith Sr., executive editor of the Florida Baptist Witness newspaper, challenged his allegation about an Oval Office exchange with Adrian Rogers.
Carter also has apologized to the Rogers family.
Smith raised the issue after reading an interview with Carter published by The Atlanta Journal-Constitution Nov. 22, which began with the newspaper asking Carter about his 1979 White House meeting with Rogers.
"He said you were a secular humanist?" The Journal-Constitution reporter asked.
"Yes," Carter replied.
The former president has been using this example to make his case that there has been an increase in "fundamentalism" (Carter's word) within the Southern Baptist Convention. Carter describes himself as a "conservative Christian."
The question arose from an excerpt on page 32 of Carter's book which reads:
"A few weeks before our hostages were seized in Iran, the newly elected president of the Southern Baptist Convention came to the Oval Office to visit me. This had been a routine ceremony for many years, especially when the president of the United States happened to be a Baptist." (Before Carter, Harry Truman was the last president who was a Southern Baptist church member.)
"I congratulated him on his new position," Carter continued in the book, "and we spent a few minutes exchanging courtesies. As he and his wife were leaving, he said, 'We are praying, Mr. President, that you will abandon secular humanism as your religion.' This was a shock to me. I considered myself to be a loyal and traditional Baptist, and had no idea what he meant."
Carter had given another account of the incident during a segment of National Public Radio's "Morning Edition" Nov. 4:
"I had been always in my life a devout and committed Baptist, and in 1979 there was an election of a new president of the Southern Baptist Convention who came to visit me in the Oval Office since I was also a Baptist. And when he left, he said, 'Mr. President, I hope you'll abandon your commitment to humanism and become a Christian.' I was taken aback. He was on the way out. I didn't know what he meant at all. Secular humanism was a phrase with which I was not familiar."
And back in 2001, Carter had mentioned the meeting during an address at the annual meeting of the Cooperative Baptist Fellowship.
Smith had interviewed Rogers Oct. 6, just weeks before Rogers' death Nov. 15, and had asked him about the Oval Office visit.
"After I saw the AJC interview," Smith told Baptist Press, "I got the book and found the claim. That's when I went back to the recording of my interview with Rogers, found what he said about the matter and decided that the discrepancy needed to be pointed out."
Rogers, in the interview, voiced a different view of the conversation than the one Carter had been repeating.
"... Rogers said he told Carter, 'Mr. President, it is a heady thing for a Baptist preacher to be in the Oval Office' and 'if I had had the cheek or temerity to say that, I will guarantee you I would have remembered it,'" Smith recounted. "Rogers continued, recalling his statement to Carter, 'I may have said going out the door, 'We need to turn this nation back from secular humanism, back to its roots.'' He said further to Carter, 'Now, unless you think I am a sheer fool, insane or [a] liar, I can tell you emphatically I didn't say it. Had I said it, it would have been so etched in my consciousness.'"
Have something to say about this article? Leave your comment via Facebook below!
advertise with us
Example: "Gen 1:1" "John 3" "Moses" "trust"
Advanced Search
Listen to Your Favorite Pastors