Jimmy Carter to Correct Error in "Endangered Values" Book
Erin Curry Roach, Baptist Press
Friday, December 16, 2005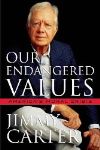 Rogers' wife, Joyce, also recounts the story on page 106 of the recently published biography she wrote about her husband titled "Love Worth Finding."
"The visit ... would later be the source of some contention. President Carter had aligned himself with the moderate faction of the convention. At one of their meetings he said Adrian Rogers asked him why didn't he turn from secular humanism to biblical faith," Joyce Rogers writes. "Adrian was certain that he had not said this to the President. He knew that if he had done such a thing, it would be indelibly etched in his mind. He wrote to President Carter and said, 'I did not call you a secular humanist; nor do I believe you are one. While we may differ in denominational politics and theological views, I have been grateful for your open declaration of your faith in Jesus.'
"Jimmy Carter wrote back a hand written letter: 'I know that is what you said, because it was the first time I had ever heard the term secular humanism. Rosalyn and I discussed it. But if you would like to talk about it further, I am willing.'"
Rogers then met with Carter in Atlanta and told him, "President Carter, you know there's often what a man says and what he thinks he said and what a man hears and what he thinks he heard." Carter replied, "You are a very persuasive person."
Smith, with his interview with Rogers fresh in his mind, contacted Carter's press secretary to ask for a statement from the former president on the matter. His two attempts initially went unanswered, and Smith published an editorial on the matter Dec. 8.
In the editorial, Smith expressed disappointment that Carter – after supposedly accepting that Rogers had not called him a secular humanist – would use the disputed story as a primary illustration of the dangers of religious fundamentalism and even compare Rogers to Iran's extremist Ayatollah Khomeini in his book.
"It's incredibly irresponsible for Carter to compare Adrian Rogers, whose love of Christ and humanity compelled his preaching ministry sharing the Gospel with people around the world, with a totalitarian dictator in religious garb whose hate inspired the taking of American hostages and has lead to the deaths of countless people in Iran around the world," Smith wrote. "Jimmy Carter owes Adrian Rogers an apology."
Smith told Baptist Press that Carter's press secretary sent a brief e-mail from Carter Dec. 7 disputing whether the account was even about Rogers at all.
"It was a meeting in the Oval Office in August 1980 and not 1979 when the newly elected president of the Southern Baptist Convention made the remark to me concerning secular humanism. It was not Adrian Rogers," Carter wrote.
And then Smith received a letter from Carter Dec. 12 formally responding to his editorial and saying it had left him "quite disturbed."
"In no way did my text make any personal equation between Dr. Adrian Rogers, a great Christian leader, and the Ayatolla[h] Khomeini," Carter wrote. "My only inference was regarding my personal experiences with the rise of fundamentalism (carefully defined in the book) at about the same time in my life – approximately a quarter century ago – when our hostages were taken and the Southern Baptist Convention made a dramatic movement toward conservative leadership.
"Although I did not include any names in the text, I feel personally culpable for any misinterpretation, such as in your editorial, of a lack of respect for Dr. Rogers," he added. "Although he and I had strong differences of opinion about Baptist policies, both in public statements and in our private conversations, I have never doubted his integrity or truthfulness. After expressing condolences to his widow the day after his untimely death, I added, 'Adrian was a powerful and influential Christian leader, and I know how proud he made you all.'
Have something to say about this article? Leave your comment via Facebook below!
advertise with us
Example: "Gen 1:1" "John 3" "Moses" "trust"
Advanced Search
Listen to Your Favorite Pastors