Lawhead Turns Familiar Tale on Its Ear in Hood
James Wilson, Infuze Magazine
Thursday, August 09, 2007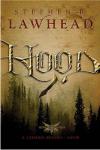 Author: Stephen R. Lawhead
Title: Hood
Publisher: Westbow Press
What comes to mind when you hear the name Robin Hood? Shadowy figures darting behind trees and bushes, hiding beside well-trodden forest roads? An animated, smiling fox? Kevin Costner? Men in . . . tight clothes?
Take all you know or despise about the numerous renditions of the Prince of Thieves and bury them in a hole. Stephen R. Lawhead is out to make you believe that Robin Hood's story is one of the greatest tales you've never heard.
Lawhead's novel, Hood, tells the story not of Robin, but of Bran ap Brychan, heir to the throne of Elfael. Our first encounter with the carefree Bran finds him hiding in the kitchen of the fetching but hard to catch Merian, where he is waxing (almost) eloquent in search of but a single kiss. He must steal the kiss he desires before leaping out the window and fleeing his discovery by Merian's father: Lord Cadwgan.
But life is not all wooing and kissing for Bran. He discovers that his father, the King, has been slain. The duty falls to him to protect his lands—a task that might as well be impossible with the odds stacked against him. Deadly circumstances take him deep into the forest where he's forced to remain and heal from near-fatal wounds. This time of healing and learning for Bran is magical in the telling as Lawhead showcases his uncanny ability to bring a mystical setting to life.
It's hard to label Hood as a retelling of the Robin Hood story; it is better described as a re-imagining. Like most of Lawhead's work, Hood is gritty, realistic, and epic in scope, but at the same time a surprising amount of whimsy and humor finds its welcome place. The book could be compared to the likes of Batman Begins in the way it takes an iconic figure and breathes new and serious life into him.
Some may object to the absence of a Sherwood Forest or Nottingham, but the new setting (England) makes for a more intriguing and unpredictable tale. While some, if not most of the names are hard to wrap the mind and mouth around, the descriptions and details of this forgotten world are superbly executed.
Weighing in at a healthy 490 pages, Hood doesn't feel as long as it looks. Speaking of looks, publisher Westbow Press has done a brilliant job on the cover design—the arrow tearing through the cover, the clever King Raven Trilogy symbol. Yes, Hood is the first of the King Raven Trilogy, the name of which has a deep and powerful meaning to Bran—one that he only begins to understand in this first book.
Hood is a beautiful, gritty, precision-crafted re-imagining of a classic tale. The adventure is epic, the telling is flawless, the maiden is beautiful—what more could you want? How about the sequel? Scarlet is set to release this September. It will be interesting to see if this Raven can fill the boots and the hood of the already proven Robin. If anybody can make that happen, Lawhead can.


© 2007 Infuze Magazine. All rights reserved. Used with permission.




Have something to say about this article? Leave your comment via Facebook below!
advertise with us
Example: "Gen 1:1" "John 3" "Moses" "trust"
Advanced Search
Listen to Your Favorite Pastors