Learning Evangelism From Jesus
Jerram Barrs, Author
Thursday, July 23, 2009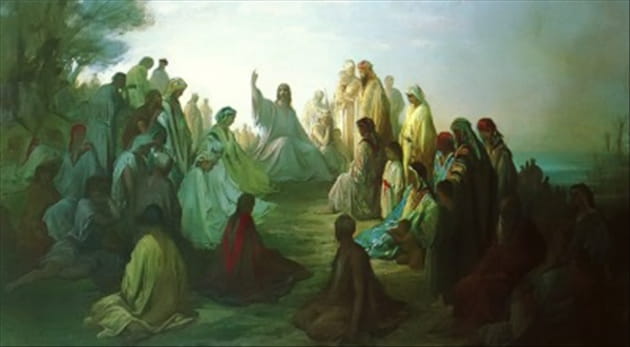 The theme of this book will be that Jesus is the greatest evangelist. As we read the four Gospels we learn that Jesus is the best example of how we are to relate to those we meet, whatever their views, whatever their way of life. He is the best example of how we are to live before unbelievers and how we are to love them, serve them, and speak truth to them. We may also add that his apostles, as his first representatives whom he sent out into the world, learned to obey his command to go to all the nations with the gospel; and they also learned to imitate the example Jesus had set in his life.
THE REGULATIVE PRINCIPLE
Much of the Church throughout her history has treasured what has been called the "regulative principle" with regard to worship and the structure of church life. This principle simply means that in our church life we have sought to follow the explicit teaching of Scripture wherever such teaching is present. Our worship is to be governed by the teaching of God's Word about worship and by the worship practices that we find described in Scripture. In like manner, our patterns of church leadership are to be shaped by the command of Scripture and by the pattern of leadership we see in the New Testament Church.
It is my deep conviction that our evangelism both in theory and practice ought also to be shaped by the teaching of Scripture and the example that Scripture sets before us. As soon as we reflect on this subject of evangelism, it is evident that Jesus is the greatest evangelist. It is impossible to imagine any Christian disagreeing with this statement. If we stop and think practically about this issue, it is also clear that by far the greatest number of passages in the Bible that describe encounters with unbelievers, and the communication of truth to them, come in the four Gospel accounts of the ministry of
Jesus. This is not surprising, of course, for Jesus repeatedly declares that he has come into the world to save sinners.
LEARNING FROM JESUS: LESSONS FOR EVANGELISM
The approach of this book will be to look at a series of passages in the Gospels. Our goal will be to learn from Jesus as he reached out to those he came into this word to save. In each chapter we will study one story that recounts Jesus' meeting with someone who is not a believer, or some group of those who have no faith in him. In some of these encounters we will see people coming to faith in Jesus; in others we read of no conversion taking place—at least at that time. As we study each story we will seek to discover some of the principles present both in Jesus' life and in his words that shape the way he meets and talks with people. And, we will seek to draw some lessons for our own lives and for our communication of the gospel.
One final point I wish to make in this introduction is this: it has been a great joy to me to undertake this study. My prayer is that these studies will be a joy and a blessing to you the reader, and that the Lord will take pleasure in this little book and be pleased to use it for the extension of his kingdom.
They went each to his own house, but Jesus went to the Mount of Olives. Early in the morning he came again to the temple. All the people came to him, and he sat down and taught them. The scribes and the Pharisees brought a woman who had been caught in adultery, and placing her in the midst they said to him, "Teacher, this woman has been caught in the act of adultery. Now in the Law Moses commanded us to stone such women. So what do you say?" This they said to test him, that they might have some charge to bring against him. Jesus bent down and wrote with his finger on the ground. And as they continued to ask him, he stood up and said to them, "Let him who is without sin among you be the first to throw a stone at her." And once more he bent down and wrote on the ground. But when they heard it, they went away one by one, beginning with the older ones, and Jesus was left alone with the woman standing before him. Jesus stood up and said to her, "Woman, where are they? Has no one condemned you?" She said, "No one, Lord." And Jesus said, "Neither do I condemn you; go, and from now on sin no more. - John 7:53-8:11
Learning Evangelism From Jesus
Copyright by Jerram Barrs
Published by Crossway Books, a publishing ministry of Good News Publishers
1300 Crescent Street Wheaton, Illinois 60187
All rights reserved. No part of this publication may be reproduced, stored in a retrieval system or transmitted in any form by any means, electronic, mechanical, photocopy, recording or otherwise, without the prior permission of the publisher, except as provided for by USA copyright law.
Have something to say about this article? Leave your comment via Facebook below!
advertise with us
Example: "Gen 1:1" "John 3" "Moses" "trust"
Advanced Search
Listen to Your Favorite Pastors