Let Go: Living Free of the Burden All Women Know
Sheila Walsh, Autor, Speaker
Saturday, April 18, 2009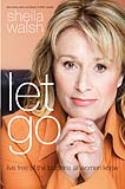 EDITOR'S NOTE: The following is an excerpt from Let Go: Live Free of the Burdens All Women Know by Sheila Walsh (Thomas Nelson).
Introduction
God's Rescue Plan—To Be Delivered, You Have to Let Go
One Sunday morning, as I was getting ready for church, I felt discouraged and bone weary. Belle, our three-year-old bichon frise, looked up at me with heartfelt empathy, as if to say, "If you're going down, I'm coming with you." That's how I felt that morning. Many things in my life were going very well, but there were a few areas where I felt very hopeless.
As I looked at my reflection in the mirror, I heard God speak four words to me:
I will deliver you!
I didn't hear an audible voice, but in my spirit God's voice was unmistakable. I was startled by the clarity of the message.
This is not a common occurrence for me. I often hear God speak through the Bible, through my pastor or friends, or through the beauty of nature. But very rarely have I heard his voice so commanding, clear, and deeply personal: I will deliver you!
It seemed as if my bathroom floor had become holy ground. I knew deep down exactly what situation God was assuring me that he would deliver me from. To pretend any longer that the issue that had been weighing on my heart and soul like a frozen winter lake was under control was stretching even Belle's blind devotion, never mind the almighty, all-knowing God of the universe.
I thought, How will God deliver me from this? My question revealed a lot about my attitude to being rescued. I am more comfortable with a straightforward scenario—I have a problem, God rescues me, and we all move on with life. But God wants much more for us. God wants to extend us a freedom that goes far beyond a one-time intervention; he wants us to experience a lifestyle of liberty.
My question was answered quickly and clearly, as God's words came ringing back to me: I will deliver you!
As I heard God's strong and loving voice again, I knew that the "how" had nothing to do with me. Not only that, but the "how" was ridiculous in light of the "who."
All God was asking me to do was receive his promise and trust him. Nothing more.
I prayed a very simple prayer in response: "Father, thank you. I believe you, I trust you, and I will try to rest in your promise. I have no idea what my deliverance will look like or when it will come, but you do and that's all I need to know. Please give me your grace on the days when I will find it hard to trust and look for more. Help me to let go when I want to try to fix things that only you can fix."
What does it mean to be delivered?
That morning at church, "coincidentally," our pastor taught from the apostle Paul's letter to the church in Philippi:
I want you to know, brethren, that the things which happened to me have actually turned out for the furtherance of the gospel, so that it has become evident to the whole palace guard, and to all the rest, that my chains are in Christ. . . . and in this I rejoice, yes, and will rejoice. . . . For I know that this will turn out for my deliverance through your prayer and the supply of the Spirit of Jesus Christ. (Philippians 1:12–13, 18–19)
As I reflected on that passage during the next few days, my mind was flooded with questions:
• How did Paul know his present circumstances would work out for his deliverance?
• What does it mean to be delivered?
• Does deliverance always involve a change of circumstances, or do the circumstances sometimes remain the same while God changes us?
• Is there a biblical time frame for how and when deliverance takes place?
Have something to say about this article? Leave your comment via Facebook below!
advertise with us
Example: "Gen 1:1" "John 3" "Moses" "trust"
Advanced Search
Listen to Your Favorite Pastors