Let Go: Living Free of the Burden All Women Know
Sheila Walsh, Autor, Speaker
Saturday, April 18, 2009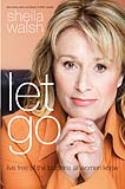 I think of one of my friends whose daughter is sick. She and her husband are waiting for test results. I think of a school friend of Barry's whose young son has been very ill and has gone through so many painful procedures—and he is not out of the woods yet. I think of a female soldier in Iraq who wrote to say that she listens to audiotapes from our Women of Faith conferences, and at times they are the only thing that keep her sane when she sees friends' lives lost in the war.
All these and other harsh intruders in life often make it hard to recognize the fact that our God is always present. But some of the greatest surprises to me on this spiritual journey are those moments when it becomes clear God has been faithfully cultivating my heart—those times when things don't go as planned, and I do see God is in control. They don't have to be extreme situations like I described above. Often it's in the little things we see God's work. That is grace, and that is a gift.
The Best-Laid Plans of Mice and Men
I didn't realize at the time I read Charles Finney's statement and wrote it in my notebook that God had tucked this little phrase into my pocket for a day like yesterday. As I reflect on the events of yesterday, I'm not sure whether to laugh or cry. Either way, I am a recipient of grace. Let me give you a little background.
In January 2008, Barry and I decided that since we hadn't had a real vacation in five years, our family would travel somewhere fun for spring break. Barry did some research and found a great deal at a hotel in Cancún, Mexico. Since we live in Texas and Cancún is only a two-hour flight for us, it seemed ideal.
A few days before we left, I pulled together everything I thought we'd need. I looked at our three passports and noticed Christian's had expired. Barry called the airline and was told that all we needed for Christian was his birth certificate.
The big day arrived and we got to the airport in lots of time to catch our morning flight. We presented our two passports and Christian's birth certificate at the desk.
The agent asked, "Where's the third passport?"
"We don't have one," Barry said, "but we do have his birth certificate."
"You can't fly without a passport," she said.
"But we called and talked to one of your agents," Barry replied, his bubble of hope beginning to vaporize.
"You can't travel out of the country without a passport—everyone knows that!" she said, looking at us as if we had just crawled out from underneath a haystack.
"That's why we called, ma'am," Barry bravely continued.
"Not my problem," she said. "Next in line!"
By this point Christian was in tears. I felt so bad for him. He had been very excited about our vacation, and now we were stuck at the airport with a plethora of luggage and nowhere to go, and the friend who dropped us off had left.
"I'm so sorry, Christian," I said. "We'll try to work something out."
Christian and I dragged our bags over to a seating area while Barry remained at the counter, trying to fix the problem. Thirty minutes later, we called for a cab. As soon as we arrived back home, we immediately got online to see what could be done. We discovered that if we could get to Houston, Texas, the passport office there could issue Christian a passport when it opened the following morning and we should have it the same day. We drove back to the airport and got on a flight to Houston.
"We'll find a hotel close to the passport office or the airport when we get there," Barry said.
Oh, really?
When we arrived in Houston, we called every hotel we could think of; but they were all full. We got down to the Motel 6, the Motel 5, and the Motel 2½, but there was no room in the inn. Apparently there was a convention of helicopter pilots in town—who knew there were so many! Finally, as we were about to start looking for a stable and manger, we found a hotel with one room left. By this point, we were all very hungry and tired.
Have something to say about this article? Leave your comment via Facebook below!
advertise with us
Example: "Gen 1:1" "John 3" "Moses" "trust"
Advanced Search
Listen to Your Favorite Pastors