Let Go: Living Free of the Burden All Women Know
Sheila Walsh, Autor, Speaker
Saturday, April 18, 2009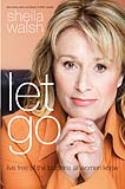 "Mom, do you think I could have a steak?" Christian asked. "I'm starving."
"It's your vacation, babe," I said. "Let's see what the hotel has to offer."
Well, that would be . . . nothing. They told us their restaurant was closed, but they would be happy to drive us to one. We told the desk clerk we wanted a steak place, but not anything too formal since we looked a bit bedraggled by this point. She told us about a great restaurant with a new chef who used to work at the Bellagio hotel in Las Vegas. Frankly I didn't care if he'd worked at a Denny's in Darfur; we just needed to eat. The hotel van dropped us off outside a steak-house and said they would pick us up in an hour. Perfect!
We sat down at our table, and I picked up my menu. I suddenly became painfully aware that Christian was kicking me in the ankle.
"What are you doing, babe?" I asked.
"Mom, that woman is naked!" he whispered.
I looked up and for the first time became aware of the fact that the walls were covered in red velvet and festooned with black-and-white pictures of women with no tops on!
"Barry! Look at the walls!" I said, but he already was.
"Good grief, what is this place?" I whispered. I looked at my menu. It was called The Strip Place. I had naively thought that applied to the strip steak—but apparently not.
Christian went into dramatic mode. "My eyes, my eyes; my beautiful, innocent eyes!"
I said to him, "Just keep your eyes down. Look at your napkin."
When he exploded with laughter, I realized that the same people who'd done the walls had obviously designed the napkins too.
In my evangelical panic, I thought, Let's sing a hymn; we'll sing a hymn! What came to mind was one of my grandmother's favorites, "Rock of Ages." Verse two seemed beyond poignant:
Nothing in my hands I bring,
Simply to thy cross I cling.
Naked come to thee for dress . . .
I added my own earnest plea to that of Augustus M. Toplady:
Lord, please get me out of this mess;
Good grief, look at the size of that woman's chest!
We were stuck. We were hungry, we had no transport, and we were surrounded by pictures of women showing us how good God had been to them.
"Okay, Christian, here's the deal," I said. "I know we don't normally let you watch mp3 movies in restaurants, but this is what I would describe as . . . unusual circumstances. So put on Sponge Bob SquarePants, and don't look up until I am approaching your mouth with a forkful of something."
Well, we made it through dinner and got back to our hotel. After we had our extended devotions and prayed together, Christian asked me, "Do you think that made God angry?"
"Do you mean angry that we stayed?" I asked.
"I don't know, Mom—just the whole thing," he said.
"I don't think God was cross with us at all," I told him. "I think it made him sad that those ladies felt they had to take off their clothes. I know he loves them and wants the best for them."
"Do you think he loves them as much as he loves you?" he asked.
"Every bit as much," I said.
"Even though they're doing something he wouldn't want them to?" he asked.
"Christian, God's love for us is not based on our behavior," I assured him. "It's based on his heart and his character. That's grace."
Grace in All Things
I am aware that this silly inconvenience doesn't hold a candle to the life-and-death situations I described earlier. But that's actually my point. As a believer of forty years (I gave my life to Christ when I was eleven), when I am faced with life's crises, I usually know enough to turn to God for strength, grace, and guidance. It's the small stuff that gets me. It's the moments when my plans are messed up, and it feels like no one really cares one way or another. Those are the times I must learn the lesson over again—to trust God. It's hard for me, because it means I have to let go of my agenda.
Have something to say about this article? Leave your comment via Facebook below!
advertise with us
Example: "Gen 1:1" "John 3" "Moses" "trust"
Advanced Search
Listen to Your Favorite Pastors