Let Not Your Heart Be Troubled
Martin Lloyd-Jones
Wednesday, July 15, 2009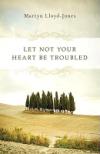 EDITOR'S NOTE: The following is an excerpt from Let Not Your Heart Be Troubled by Martin Lloyd-Jones (Crossway).
Chapter One
Let not your heart be troubled: ye believe in God, believe also in me. - John 14:1
As we come to consider this great passage together, I think most commentators agree that a better way of translating it is, "Let not your heart be troubled, believe in God, believe also in me." In other words, it is probably right to say that it is the imperative that we have in both cases.
However, these words are probably familiar to most of us; indeed they are perhaps some of the most familiar and tender words ever uttered by our Lord and Savior Jesus Christ. They are words, therefore, that we often tend to take without really facing them and their true meaning and without analyzing them as we should. It is to me a tragedy that so often we rob ourselves of the actual message of some of the most glorious statements in Scripture simply because we regard them as literature. We are content with some general effect or influence that they may produce upon us instead of taking the trouble to arrive at their exact meaning and their precise import.
Now that, I think, is very true of these words, words that may be most familiar to us in funerals. They are words of comfort and consolation, which we tend, therefore, to think of far too often as some kind of beautiful music or some wonderful diction. So we never get any further, almost feeling at times that it is a sacrilege to analyze something that is so beautiful.
Let not your heart be troubled: ye believe in God, believe also in me. In my Father's house are many mansions: if it were not so, I would have told you. I go to prepare a place for you. And if I go and prepare a place for you, I will come again, and receive you unto myself; that where I am, there ye may be also. . . . Peace I leave with you, my peace I give unto you. . . . Let not your heart be troubled, neither let it be afraid. (John 14:1–3, 27)
We have heard those words many times, but I wonder what would happen if we suddenly had to sit down with paper in front of us and face a question such as, state the doctrine contained in those familiar words—what exactly do they say? Have these words, I wonder, come to us merely in that general manner, that kind of general consolation, that can be done equally well by beautiful music or by any beautiful thoughts or passages of literature? Or have we derived comfort and consolation from them because we have realized the doctrine that they are announcing?
Our Lord's whole purpose in uttering these words was that he might instruct his disciples and help them by bringing them to a deeper knowledge and understanding of truth. He was addressing their minds primarily, and the way in which he came to do so is of significance and importance. He had just been telling these men, who had now accompanied him for about three years, that he was about to leave them. He was still young, in his early thirties, and to their astonishment and utter chagrin he announced that he was going to leave them. "Now," he said, "is the Son of man glorified, and God is glorified in him. . . . Little children, yet a little while I am with you. Ye shall seek me: and as I said unto the Jews, Whither I go, ye cannot come; so now I say to you" (John 13:31, 33). But he realized at once that this information had upset these disciples and had made them unhappy and disconsolate. Their hearts had become troubled, they were ill at ease, and they had lost their peace because they were suddenly confronted by a problem.
Now we need not go into detail as to why the disciples felt this so acutely; that has its interest and its importance, but we need not stay with it now. It might very well have been due to the fact that they had become overdependent upon him. They had never met anybody like him before. They had been ordinary men living ordinary lives in this world, having their ups and downs and problems, but suddenly they had met him and had been called by him to follow him and keep him company in a very special way, and it had been a marvelous and thrilling experience. His very personality was something quite apart and unique; they had never seen anybody like this before. There was something in his very person; to look into his eyes was to recognize something that they had never known.
Have something to say about this article? Leave your comment via Facebook below!
advertise with us
Example: "Gen 1:1" "John 3" "Moses" "trust"
Advanced Search
Listen to Your Favorite Pastors