Let Not Your Heart Be Troubled
Martin Lloyd-Jones
Wednesday, July 15, 2009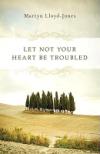 And the thing that commends itself most of all to me is that it does not leave it all to me, but it links all to the power of God. "Let not your heart be troubled"—why? "Believe in God, believe also in me," says Christ; in other words, "Trust me." I have mentioned those who spend long, weary hours in all the details of a busy everyday life; they cannot follow "the mystic way." What can I offer them? If I do not have a gospel that can give them a quiet heart, I have no gospel worthy of the name. But thank God, I do have a gospel for them. I have a gospel that tells them that the one who walked through this world and triumphed over it, even over death and the grave itself, has said, "At that day ye shall know that I am in my Father, and ye in me, and I in you" (John 14:20), so that into their unutterable weakness comes the might and the power of the Son of God who has vanquished death and the grave, and against him nothing and no one can finally stand.
"Let not your heart be troubled . . . believe in God." Yes, believe in God, the God of the Old Testament, the God of the promises, the God of the covenants, the God of whom it is said, "When my father and my mother forsake me, then the Lord will take me up" (Psalm 27:10). This is the same God who told mankind from the beginning that his desire was to bless them, to give them peace and joy, and to have them as his children. Trust him. Yes, but so often that is the difficulty, is it not? It is all here in John 14. Philip, one of the disciples, said to our Lord in effect, "If only we knew the Father, it would suffice us, but the difficulty is knowing that God in heaven is our Father." And our Lord's reply is, "Have I been so long time with you, and yet hast thou not known me, Philip?" (vv. 8–9). "Believe in God, believe also in me," he says, "because without believing in me, you will never really know the Father."
Thomas, too, had a problem: "We don't know this 'way' you are talking about," he said in essence. And our Lord's great answer to him was, "I am the way, the truth, and the life: no man cometh unto the Father, but by me" (vv. 5–6). And speaking about prayer—and how often we find difficulty in this—he said in summary, "It is all right—I am going to be with the Father. If you ask anything in my name, I will do it" (v. 14).
But then we say, "We are so weak. How can we go through with it in a world like this?" He says, "I will not leave you comfortless" (v. 18), which translated means, "I will not leave you orphans." And he adds that he will "give [us] another Comforter" (v. 16). This is the blessed doctrine of the gift of the Holy Spirit, who comes and dwells within us and reveals and explains things and energizes and empowers and enables us.
It is all here in John's Gospel. But let me summarize it all so that you may be encouraged. There has been one in this world called Jesus of Nazareth, and it is he who says to you, "Let not your heart be troubled . . . believe in me," which means, "Come to me, tell me your troubles, tell me all about your difficulty about God, the difficulty of prayer, the difficulty about your weak will and failure."
I do not care what it is that makes you restless and ill at ease. It may be the possibility of war, it may be illness, it may be business troubles, it may be your own weakness morally in the realm of the will—whatever it is, whatever is troubling and making you unhappy, go to him about it. He is the one who loved you enough to die for you. He said, "Come unto me, all ye that labour and are heavy laden, and I will give you rest" (Matthew 11:28). There is no need for you to be unhappy and restless. Believe in God. Believe in the Son of God, the Lord Jesus Christ who came on earth to deliver you from that very thing and who has removed every barrier between you and God and who can give you rest and peace here and now.
Let Not Your Heart Be Troubled
Copyright 2009 by Elizabeth Catherwood and Ann Beatt
Published by Crossway Books, a publishing ministry of Good News Publishers
1300 Crescent Street Wheaton, Illinois 60187
All rights reserved. No part of this publication may be reproduced, stored in a retrieval system or transmitted in any form by any means, electronic, mechanical, photocopy, recording or otherwise, without the prior permission of the publisher, except as provided for by USA copyright law.
Have something to say about this article? Leave your comment via Facebook below!
advertise with us
Example: "Gen 1:1" "John 3" "Moses" "trust"
Advanced Search
Listen to Your Favorite Pastors