Mad About Us
Gary J. Oliver, Ph.D. & Carrie Oliver, M.A., Authors
Tuesday, November 13, 2007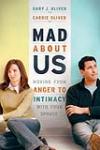 EDITOR'S NOTE: The following is an excerpt from Mad About Us (Bethany House) by Gary J. Oliver, Ph.D., and Carrie Oliver, M.A.
INTRODUCTION
When I pick up a book I wonder, What qualifies this author to write on this subject? Does he or she have some understanding as to the plight of my life? Will this book be relevant to me? You might be asking similar questions about Mad About Us, yet another book on marriage. Who are these people, where did they
come from, and what do they have to offer me?
Who We Are
As we write this book Gary and I have been married for twenty-six years, raised three sons, changed jobs and moved four times, acquired several degrees and a daughter-in-law along the way, walked through cancer, and lost one of our sons.
Over the past thirty years Gary has conducted over one hundred weddings, and we've provided premarital counseling for more than one thousand couples and marriage counseling for well over five thousand couples. We have taught marriage seminars and healthy relationship classes and written articles for various magazines. We have studied communication, conflict resolution, the differences between men and women, emotions and godly ways to express them.
We come to you with this book straight from our hearts and experience. You see, we are a real couple that, like you, has conflicts and differences that continue to catch us by surprise! Both Gary and I are still amazed and puzzled by the way we think, act, feel or don't feel, communicate, and generally do life very differently from each other. Sometimes we like the differences and sometimes we get mad—frustrated, lonely, hurt, distant—when differences and conflict surface.
Why We Wrote the Book
Aside from our differences and ongoing frustrations, we have grown an intimate marriage and believe you can do the same. We cannot imagine life without each other. Sometimes we can imagine a day without the other, but life—no way! We want that for your marriage too.
Without exception every couple we have worked with began their marriage with a proclamation of their love and a commitment to stay together until "death do us part." That's how we started ours. We all talked about our dreams for a lifetime
of love, trust, safety, security, and deep levels of intimacy.
In many cases the couples we have worked with talked about being madly in love or mad about each other. Unfortunately the reality is that once a couple gets married the "mad" that was a synonym for passionate love often becomes a synonym for unhealthy frustration. That frustration can easily turn to an unhealthy anger that discourages hearts, divides couples, and often destroys relationships.
The tragedy is that it doesn't take long for the "mad about each other" to turn into mad at each other and for the relationship to go into a downhill slide. There are a gazillion reasons why some marriages fall apart while others survive but are characterized by mediocrity. However, the vast majority of those failed or mediocre marriages have at their core the inability to understand differences, deal with the emotion of anger in healthy ways, and engage in healthy and constructive conflict.
What's in the Book for You
This is a book about intimacy. It's a book about restoring the positive passion that we all had at the beginning of our marriage journey. Our hope is that this book will help you to enjoy a long-lasting and mutually satisfying marriage relationship characterized by intimacy. Our goal is that after reading this book you will better understand how dealing with anger and conflict can lead you to that intimacy. Over the years the many couples we've worked with have taught us that if we don't understand how to deal with unhealthy anger and engage in constructive conflict, we will never experience the deep levels of intimacy that led us into marriage in the first place.
Have something to say about this article? Leave your comment via Facebook below!
advertise with us
Example: "Gen 1:1" "John 3" "Moses" "trust"
Advanced Search
Listen to Your Favorite Pastors