Mad About Us
Gary J. Oliver, Ph.D. & Carrie Oliver, M.A., Authors
Tuesday, November 13, 2007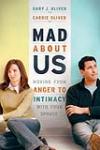 God's Design
Miraculously, God created man and woman in His image (Genesis 1:27). Isn't this wonderful to contemplate, that each and every one of us is walking around with the image of God? Oh to grasp this truth and live it out rather than live as the fallen, sinful beings we became when wrong choices were made.
God had something good in mind when He brought man and woman together. He said that it was not a good thing for the man to be alone. He brought forth the woman from the man and gave them to each other (Genesis 2:18–22). Marriage is a place where we have the opportunity to feel close to someone else, so close that loneliness does not overwhelm us. God created the sexual experience for a man and woman in marriage to enjoy with delight and freedom. Pure pleasure. Another place to feel safe, vulnerable, and not alone.
God also designed the marriage relationship to reflect who He is. Because we are made in His image, because we are in relationship, we now can show the world what intimate relationship looks like. Marriage is both a reflection and a microcosm of a personal relationship with God. Marriage is a place to become more holy and to demonstrate holiness to a fallen world.
God's design for marriage is that we would experience intimacy with Him and then with each other. Do not be discouraged if you are reading along and find that this does not ring true in your marriage! Remember that thing called hope? If everyone had cooperated in the garden of Eden and followed God's rules, there would be no need for any marriage book on the market! But we all know that is not what happened. Sin entered the world and sin entered marriage. When this took place, the man and woman began to hide from each other. They hid their bodies, their hearts, and their minds. If they did it right there with God so close to them, even to His calling out in an audible voice, "Where are you?" (Genesis 3:9), then it is not surprising that we do the same in our world today, not exactly the garden of Eden.
Ever After, But Not Always Happily!
In our fallen world, we continue to experience the effects of what took place that day sin entered into the picture. We began to hide from God and from one another. Intimacy was invaded, and we were left with two ways of coping. We have found as we work with couples, and in our own marriage, that these two ways are hiding and blaming. Pretty close to what Adam and Eve experienced that day! They hid from God, and lots of blaming took place. "She did it, God, and you were the one who gave her to me," Adam proclaimed (see Genesis 3:12). The snake got a bad rap, and everyone started hiding themselves with those fig leaves.
A couple sat across from me in a recent session and I listened to the same story that I hear over and over again. Jason resists coming home at night because he feels Melissa does not meet his needs and blames him for much of her emotional turmoil. She says that he doesn't pay enough attention to her, all he cares about is himself, and he only plays with the baby because he is supposed to. Meanwhile he feels that she is only in touch with her own feelings, completely misunderstands him, and does not encourage him as a husband, father, and provider. They argue, then retreat. Nothing is resolved and intimacy is hindered. The "happily ever after" us becomes the "mad at each other" us.
Oddly, this same scenario has been going on for centuries, and we are not doing anything much differently to change it. We continue to deal with conflict and differences in the same ways that Adam and Eve did back in the garden.
Blaming is a very large part of how we function as human beings in most of our relationships. (If you are parents, you see it happen all the time with the kids. One sibling is constantly pointing the finger at the other sibling.) We simply do not want to take responsibility for our behavior, and it rarely occurs to us to sit back and try to understand the heart of our spouse. We are not intentional about how we listen to them even in their emotional experience of hurt or anger or fear. If we are completely honest, once we start to feel the emotions, we begin to focus on our need at the moment and how our spouse should be meeting it or at least listening to us.
Have something to say about this article? Leave your comment via Facebook below!
advertise with us
Example: "Gen 1:1" "John 3" "Moses" "trust"
Advanced Search
Listen to Your Favorite Pastors