Mosaic: Pieces of My Life So Far
Amy Grant, Author
Monday, October 22, 2007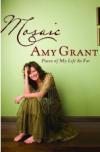 Finding an attendant, we asked, "Can you tell us when the train will be leaving the station?"
The tall African man in uniform said, "De train will come up dis track. De peoples will get off de train. You will get on. Den de train will leave."
"I understand the process. What I need to know is the time frame. My friend and I want to leave the station for a few minutes. Can you tell me approximately when the train is expected?"
Once again he explained. "See dis track? De train will come up dis track and stop at dis station. De peoples will get off de train. You will get on. Den de train will leave."
We nodded and smiled. Point taken. When it happens is when it happens. We continued to talk with Dorothy about her life now, what it was like, who comes by, how she spends her time. She told us that at night when she lays her head on her pillow, she looks back over the details of the day, and every night she asks herself the same question: "Did I live this day in a way that honored the One who gave me this day?"
Then she turned to Vince, who was kneeling on the floor beside her chair. Her face was so full of love and kindness toward him (she had told him earlier in the evening that her friends and family always called her anytime he was on television, knowing she cared about him like a son).
"You know why I pray that prayer, don't you, Vince? It's because one day every knee will bow, and every tongue will confess that Jesus is Lord. You know that, don't you, Vince?"
Stillness. Dorothy Lee, eight-nine years of life on her face, watched Vince intently.
"Yes, ma'am, I know that." My husband wrapped his arms around Dorothy with a strong hug. She said, "That was nice. Could we do that one more time?"
As we prepared to leave, we told her we were expecting a baby. She was, in fact, the first person who heard our news. Speaking of babies made her think of her own daughter. She explained, "Years ago, my sister, who worked at the Department of Human Services, called me on the phone and said, 'You've got to come down here. A family of children was dropped off today. You've just got to come see them.' When I walked in, I saw a little girl about seven months old. Do you know, that child just raised her arms to me, just like that. Well, I looked at my sister and I said, 'I guess this one's mine.' I brought her home and raised her."
That rescued child was the one who had written the letter that brought us there all these years later.

From Mosaic. Copyright © 2007 by Amy Grant. Used by permission of WaterBrook Press, Colorado Springs, CO. All rights reserved.
Amy Grant is the best-selling Christian music artist of all time and the first to garner the number one spot on Billboard's chart. Since beginning her career at age 17, she has earned six GRAMMY Awards and twenty-five Dove Awards, and this year she received her own star on the Hollywood Walk of Fame. Grant's numerous television appearances include Oprah; Good Morning, America; and Late Night with David Letterman. In 2007 she'll tour nationwide, performing with local symphonies in Atlanta, Minneapolis, Kansas City and elsewhere.
Have something to say about this article? Leave your comment via Facebook below!
advertise with us
Example: "Gen 1:1" "John 3" "Moses" "trust"
Advanced Search
Listen to Your Favorite Pastors