My Soul to Keep
Davis Bunn, Author
Saturday, September 15, 2007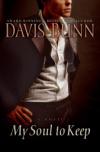 Two years previously, Brent had been out four months and three days, with six weeks left on his parole. Stanley had displayed a telepath's ability and known Brent stood on the abyss. So he'd packed Brent up and taken him into the most beautiful region of Texas and walked him until Brent had forgotten what day it was. Almost.
Stanley went on, "I've been begging God for a reason to get back up there where a man can breathe easy."
"
That was a good day," Brent replied.
"The kind of day we're supposed to focus on." Stanley gave his friend a piercing inspection. "Instead of the regrets, the if-onlys, and the thoughts that stab us in the night."
Stanley Allcott had been out for seven years. He had recently been promoted to associate pastor of the church where this AA meeting took place. He was back in the pulpit again, leading the Wednesday evening services almost against his will. The services were packed.
Brent said, "Thanks, but Liz Courtney invited me to a get-together tonight with some friends."
"What kind of friends?"
"From the amateur theater group. They know who I am, and they know what I've done, and they know I'm clean."
"You sure about that?"
"I'll be fine, Stanley."
His friend patted the truck's side, like he was gentling a restless steer. "You get that itch, I'm five minutes away." Brent started his truck, waved his thanks, and eased his rig out of the lot. He saw his friend standing there still and knew Stanley was praying him away. Brent waved his arm in a Texan farewell, a lazy drift up and back, showing an ease he did not feel. The day ahead was anything but easy. There were too many memories eager to batter him into oblivion.
Five years ago tonight, Brent had stood at the back of a crowd of cons hooting at a television screen housed in a wire cage. He'd watched as his former producer and drinking buddy had walked forward and accepted Brent Stark's Oscar for best supporting actor. On behalf of the pal who was in San Quentin, doing three to ten.
* * *
Liz Courtney was, among other things, a mover and shaker in the Austin business scene. She was also Texan to the core, a sophisticated lady who had hunted first with her daddy and then with her husband, and still stalked birds and wild boar with her grown sons. When her husband died from a massive coronary five years back, Liz had inherited the family bank. Trained as an accountant, Liz had already worked for years in her husband's office. To the astonishment of many and the dismay of some, Liz had refused to sell out, but instead led the bank through successive years of steady growth. She was fanatic about her church, her family, her bank, her town, the local theater, and her friends.
Brent had met her soon after his arrival in Austin. Brent's parole officer had found him work with a tree trimmer who drank. One Saturday morning, Liz had watched Brent work around her house while his boss sat in the truck and nipped from a bottle. Liz had a talk with Brent and liked what she heard enough to set Brent up in business for himself. Liz had treated it like it was the most natural thing in the world to give an ex-con a fresh start. As though a felon's friendship was the only thanks she'd ever want.
Her home was modest by the standards of Texas rich, a low-slung ranch set on nineteen fenced acres. When Brent arrived, the house was already jammed with people, many of whom Brent recognized from the local theater. He stopped to say hello to his latest leading lady and shook hands with her bored-looking teenaged son. Helping himself to a soft drink, Brent left the crowd and stepped out into the backyard. A giant television played on the patio by the barbecue pit. The screen flickered with pre-show commentators and fashion naysayers. Brent did his best to tune it all out. He picked up a Frisbee and tossed it to Liz's Irish setter. The teenager came out and joined them.
About a half hour later, Brent was witness to a very strange event. His AA mentor, Stanley Allcott, arrived with two strangers in tow. Liz saw them through the rear glass doors and came close to launching herself through them in her haste to get there. "Stanley!"
Have something to say about this article? Leave your comment via Facebook below!
advertise with us
Example: "Gen 1:1" "John 3" "Moses" "trust"
Advanced Search
Listen to Your Favorite Pastors