New Kathie Lee Gifford Book, CD: Rediscovery of God's Grace
Debra Akins, Contributing Writer
Wednesday, May 19, 2004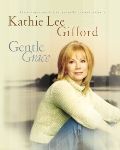 She is the consummate entertainer, wife, mother and business woman.  You know her best from her role as co-host of the popular morning talk show "LIVE with Regis & Kathie Lee," where she occupied the seat next to a hyper Regis Philbin for a whopping 15 years. But Kathie Lee Gifford's exposure on daytime television didn't begin there.
Her early television career included a one-year stint as a regular on daytime soap "Days of Our Lives" (she played Nurse Callahan), her role as the featured singer on the game show "Name That Tune" and a co-starring role in the situation comedy "Hee Haw Honeys," a spin-off of the popular television show "Hee Haw."
It was only after Gifford landed a spot as guest host of Philbin's old program, "A.M. Los Angeles," that the producers of ABC's "Good Morning America" offered her a job that provided her with the opportunity of a lifetime.  She served as a substitute anchor for Joan Lunden and began traveling for the show as a special correspondent covering human-interest stories. (And here's a bit of Christian music trivia: Gifford recalls being so proud of a budding young Christian singer named Amy Grant that she urged "Good Morning America" producers to have Grant on the show. It wasn't long after that Grant made her first appearance on the program.)
The "Good Morning America" gig helped prep Gifford for her audition three years later for the role of Philbin's co-host on "The Morning Show," which later debuted in syndication in 1988 with its new name, "LIVE with Regis & Kathie Lee." The rest, as they say, is history.
Following her 15-year stint, Gifford's departure from the morning talk show came in 2000, when she announced she wanted to spend more time with her family and focus on a music career. She now says that a large part of her decision to leave also had to do with her father's declining health from a terminal illness.
"I didn't say anything publicly because I didn't want cameras in my father's face," Gifford explains. "I wanted him to die with dignity. I wanted to go through all of that privately as a family." 
Gifford's father, Aaron Epstein, suffered from multiple illnesses, including Louie Body Dementia, Parkinsonian Syndrome and prostate cancer. His passing in late 2002, although painful, became a time of reflection for Gifford and influenced some of the material that appears both on her new album, "Gentle Grace" (Maranatha!), and the accompanying book, "Gentle Grace – Reflections and Meditations of God's Gentle Grace"(Inspirio).
"My daddy was the light and love of my life, the greatest influence on my life," Gifford shares. "His death impacted me in ways I'm probably not even aware of yet. They say that the depth of your pain is always commensurate with the depth of your love. When you watch someone so close to you truly suffering, and yet battle a horrible disease with such grace, integrity and faith it really humbles you. You realize how much you really don't have that kind of faith. It's so easy to say, 'all things work together for good for those who love God' when you're talking about someone else.  But when it's you going through it, you realize your own hypocrisy, shallowness, and how much lip service you've been giving. But my daddy had an unwavering, unshakeable faith. He was the inspiration to me. I'm so grateful to have had a father like that – someone in my life who just lived it."
Have something to say about this article? Leave your comment via Facebook below!
advertise with us
Example: "Gen 1:1" "John 3" "Moses" "trust"
Advanced Search
Listen to Your Favorite Pastors