Nine Ways God Always Speaks
Mark Herringshaw & Jennifer Schuchmann, Authors
Tuesday, March 10, 2009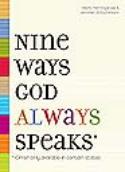 Perhaps this is your story too. You're not sure that God communicates with us here and now. Or maybe the thought of the God of the universe talking personally to you creeps you out. Maybe you don't even believe that God exists—​let alone that he speaks.
Or could it be . . . you have a great deal of head knowledge or scriptural knowledge about how God communicates but you don't have much in the way of personal experience? Maybe you've grown up in the church or around religious folks who discuss how God talks to us, but you're not convinced that God talks—to you.
Maybe you're chuckling as you read this because you know that God speaks and that God speaks to you personally. But maybe your expectations of how and when he speaks are limited by your experience.
Regardless of your story, your preconceived ideas, even your experiences, what if your thoughts on God communicating with you (or not) are wrong? Or maybe not expansive enough?
What if there's a whole lot more to it than what you've seen so far?
What if God does speak?
What if he is speaking right now?
101.2 It's Not about Church
As a young boy, Mark was comfortable with the God language that spooked Jennifer. As the son, grandson, and great-grandson of preachers, Mark truly believed that God spoke personally to people.
In church.
Literally, in church.
Growing up in his father's congregation, Mark thought he knew exactly how God spoke—through the singing of traditional hymns, Scripture reading, and fiery preaching.
Mark knew what to do to receive a personal message from God. You put on a coat and clip-on tie and, together with your parents and two sisters, piled into the family's Oldsmobile Vista Cruiser, drove to the church, and solemnly entered the sanctuary. Once inside, you ­passionately ­participated in the singing and actively listened and responded to the preaching. Then at the end of the liturgy when the altar call of repentance came, you went forward, kneeled on the carpeted step, and wept. That's where God spoke to you—during the 11:00 a.m. service on Sundays and the evening services on Sundays and Wednesdays.
Although he was only eight, Mark understood this was the thing he needed to do to put himself in a position to hear God. What Mark didn't know was that God also spoke to little boys in their neighbors' living rooms—while their clip-on tie was still at home in the closet. Wearing a T-shirt, jeans, and Converse high-tops, Mark heard God speak.
And he didn't even have to kneel.
Twin Lakes Baptist Church was the largest evangelical congregation in Santa Cruz, California. Each year they sponsored an annual vacation Bible school—ironically named, since it was a vacation from neither Bible nor school.
Neighborhood children, like Mark, gathered in local church members' homes to do crafts (making Jesus and his disciples out of Popsicle sticks), to eat snacks (Rice Krispies Treats in the shape of an ark), and to hear flannel­graph stories from the Bible (think clip-art PowerPoint ­presentation replaced by cutouts on a flannel-covered bulletin board).
I remember the woman had just finished telling a Bible story, the one about Jesus calling Zacchaeus down from the tree. I had heard that story countless times before, but this time when she finished, I began to feel something strange in the bottom of my stomach. I felt nervous, but there wasn't anything to be nervous about; I was just sitting on the couch with my friends.
But then I began to think of a bunch of things I regretted. Nothing important, just trivial eight-year-old stuff like picking on my sister or lying to my mom. But I began to dwell on the specifics of each incident, and I felt ashamed. I could feel my cheeks burn, and I couldn't figure out why.
My friends didn't seem to notice. They didn't seem to be feeling what I felt. But to me, I felt as if a fifty-pound sack of guilt had been thrown on my back.
Have something to say about this article? Leave your comment via Facebook below!
advertise with us
Example: "Gen 1:1" "John 3" "Moses" "trust"
Advanced Search
Listen to Your Favorite Pastors