Nine Ways God Always Speaks
Mark Herringshaw & Jennifer Schuchmann, Authors
Tuesday, March 10, 2009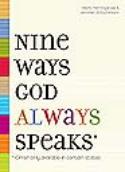 We know that some people may be willing to die for something they believe is true. But no one is willing to die for something he or she knows is false. The fact that Joan believed she heard from God, and then sacrificed her life in defense of that belief, is the strongest evidence we have that Joan believed God spoke to her.
Understanding a bit of Joan's controversy makes it easy to understand why there is so much passion surrounding another teenage girl who also had a vision.
101.4 Little Girl Hearing Voices--Take Two
We don't know if she was smart or beautiful, but we know she was poor—a peasant girl in a small and humble town in the Middle East. The town was so insignificant that at the time people were quoted as saying, "Can anything good come from there?"5
Though her name, Mary, was a common name in first-century Palestine, by all accounts she was uncommonly good. At least that's what people thought until she started hearing voices. Voices that said some pretty wild and far-out things like, "You're going to have a baby even though you've never had sex." And "Oh yeah, your elderly cousin is pregnant too."
The details of her visions and the accompanying events are recorded for us by a doctor who wrote it all down in a letter. Though there were eyewitness accounts circulating at the time of the events, that wasn't good enough for Dr. Luke. From the beginning, he cautiously investigated everything and wrote his findings in a careful account so that the recipient of his letter could be certain of the truth.6 Two thousand years later, the Gospel of Luke is part of the best-selling book in the history of the world.
Mary was engaged to a man named Joseph. Like many brides-to-be of her time, Mary was probably in the middle of her prewedding chores—addressing hand-engraved ­invitations, finalizing details for a honeymoon at Joseph's dad's house, and mending her best dress to wear on the special day—when an angel appeared:
"Greetings, favored woman! The Lord is with you!"7
"Don't be afraid, Mary," the angel told her, "for you have found favor with God! You will conceive and give birth to a son, and you will name him Jesus. He will be very great and will be called the Son of the Most High. The Lord God will give him the throne of his ancestor David. And he will reign over Israel forever; his Kingdom will never end!"8
Could this make sense? After all, Joseph was a descendant of the great King David. But a throne? And Son of the Most High? And oh yeah, one other thing . . . Mary asked the angel, "But how can this happen? I am a virgin."9
Yes, the obvious.
The angel spoke as if Mary were already pregnant. For a poor Jewish girl, it was stupefying to think of her son on a throne or her boy as the Son of the Most High. But being pregnant? Well, for such a good girl, that was impossible.
The angel replied, "The Holy Spirit will come upon you, and the power of the Most High will overshadow you. So the baby to be born will be holy, and he will be called the Son of God."10
It's not unusual for a virgin bride to be nervous about her wedding night. She'd have all kinds of questions: How would it feel? Would it hurt? Would she know what to do? But imagine a young girl being told that she was going to be impregnated when the Holy Spirit came upon her.
In addition, Mary had to be afraid of what those closest to her would say. This was an offense for which she could be stoned. What would Joseph do?
If Mary was confused before, she had to be out of her mind with fear by now.
But the angel gives her something else to think about:
What's more, your relative Elizabeth has become pregnant in her old age! People used to say she was barren, but she's now in her sixth month. For nothing is impossible with God.11
Have something to say about this article? Leave your comment via Facebook below!
advertise with us
Example: "Gen 1:1" "John 3" "Moses" "trust"
Advanced Search
Listen to Your Favorite Pastors