Nine Ways God Always Speaks
Mark Herringshaw & Jennifer Schuchmann, Authors
Tuesday, March 10, 2009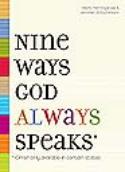 This gave Mary something to hang her head scarf on. If indeed Elizabeth were pregnant, it would be a miracle, because Elizabeth was, well, really old. It would be nothing short of God's intervention if Elizabeth were with child.
Perhaps that is what gave Mary the confidence to respond, "I am the Lord's servant. May everything you have said about me come true."12
So did Mary hear from God via his messenger Gabriel?
She believes she did . . .
. . . like Mark, who believed he heard God not in a church but in a living room.
. . . and like Joan, who believed the voices enough to let them guide her.
Dr. Luke goes on to say, "A few days later Mary hurried to the hill country of Judea, to the town where Zechariah lived. She entered the house and greeted Elizabeth. At the sound of Mary's greeting, Elizabeth's child leaped within her, and Elizabeth was filled with the Holy Spirit."13
Mary's faith in her supernatural encounter caused her to pack up and go visit her cousin in the hills. When she arrived, any doubts she had were dismissed. Beyond all rational explanation, her aged cousin was pregnant.
Elizabeth gave a glad cry and exclaimed to Mary, "God has blessed you above all women, and your child is blessed. Why am I so honored, that the mother of my Lord should visit me? When I heard your greeting, the baby in my womb jumped for joy. You are blessed because you believed that the Lord would do what he said."14
Never mind the formalities of hospitality. There's no "Oh, it's been so long. How long are you staying?" Or even a "Can I get you something to drink?" Elizabeth doesn't waste words: "We're both pregnant. With little miracle babies!"
Buoyed by Elizabeth's faith, Mary is reassured. This is confirmation that she isn't crazy, that she heard what she thought she heard.
So how does Mary react? Well, she starts babbling about how good God is and how much she loves him:
Oh, how my soul praises the Lord.
How my spirit rejoices in God my Savior!
For he took notice of his lowly servant girl,
and from now on all generations will call me blessed.
For the Mighty One is holy,
and he has done great things for me.15
If you translate this from the original Greek into 1970s Northern California preteen boyspeak, it's basically the same thing Mark thought on the way home from hearing God speak in the neighbor's living room: My feet didn't touch the ground the whole way home!
But not everyone would have believed what Mary was saying.
The residents of Bethlehem may not have known where electricity came from, but they knew where babies came from, and it wasn't the Holy Spirit. Imagine the taunting she must have taken as she stood next to her school locker, confiding this secret to her BFF.
"Yeah, right. . . . If you didn't do it, then how'd you get knocked up? Hey, everyone, listen to what Mary says ­happened to her. Go ahead, Mary; tell everyone the part about the Holy Spirit."
Even Joseph was skeptical.
And you can understand his doubts. Right?
After all, here's a guy who has chosen Mary to be his wife, not for her dowry but for her character. Then she tries to tell him some crazy story about God speaking to her, evidently to justify a reality that has only one commonsense explanation. Joseph would be stupid not to rethink his decision to ask this woman to bear his children.
Matthew records Joseph's story this way: "Joseph, her fiancé, was a good man and did not want to disgrace her publicly, so he decided to break the engagement quietly."16
What we love about this is—he doubted.
Because, frankly, many of us do too.
We identify with him.
He is real to us in his struggle to believe.
Have something to say about this article? Leave your comment via Facebook below!
advertise with us
Example: "Gen 1:1" "John 3" "Moses" "trust"
Advanced Search
Listen to Your Favorite Pastors