Can I Love Sinners Too, Lord? Yes, Permission Granted
Debbie Holloway, Assistant Editor, Crosswalk.com
Tuesday, March 12, 2013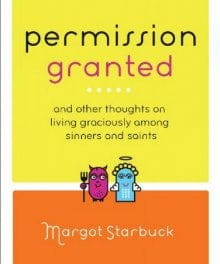 A review of permission granted (and other thoughts on living graciously among sinners and saints) by Margot Starbuck (Baker Books, 2013).
In case you haven't noticed, an entire generation of young Christians has found its voice and has begun to question some things about the religion in which they were raised. Many young Christians in the United States, specifically those brought up in very conservative, fundamentalist, or home educated circles, are blogging, writing, speaking, and wondering about the value of having been so very separated from, so very quick to judge, and so very condemning of our nonreligious fellow human beings. Specifically those with "special sins" – those hot-button issues that we all know cause a little more disgust than your average lie or propensity to gossip.
In Permission Granted, Margot Starbuck (unsqueezed) shares her own doubts and fears of cultivating relationships with nonbelievers without condoning sin. The book is an amalgam of true stories, Margot's various tumbling emotions, and her desperate desire to face her fears and figure out how to love people as Jesus loves people. Inside the book is a quote from Brennan Manning which sums up the effort pretty accurately:
God loves you unconditionally,
as you are and not as you should be,
because nobody is as they should be.
Salt of the Earth
Starbuck begins by taking issue with the basic premise that Christians should keep a healthy distance from "the world." There are indeed many individual Bible verses suggesting Christians should be different and marked by God, not by other things (cf. Romans 12:2, 1 John 2:15). Many Christians take these exhortations to mean we should erect a barrier between ourselves and "the world" to protect ourselves from its influence; to mean that we should disassociate and keep our distance from the world by any means necessary, in order to preserve our purity as children of light.
However, Starbuck's investigation of Scripture yields a conclusion quite the reverse. "The original injunction to purity was meant to keep God's people from becoming so much like the world that we were no longer salt and light in it," she explains. "Our eventual sterile detachment would mock the divine intervention," she continues sadly; "Rather than propelling our salty, light-bearing movement into the world, we've used 'holiness' as a barrier to protect us from the world."
Ouch. That paragraph struck a nerve with me. We exclaim "in the world, not of it!" as a mantra, often desperately fearing to get too close to the world. But, as Margot reminds us, Matthew 5:13 No! We are to shine before men. Jesus came down among sinners and touched them, walked with them, bled with them. Permission Granted does a bold thing in acknowledging fear and the desire for safety as reasons we have been unable to truly salt the world, as Christ intended.
Theological Twister
But Starbuck doesn't simply conclude that Christians are called to be out among the worldly, shining Christ's light, rather than hiding and trying to sanitize our lives. She goes on to make a memorable analogy about how the Church tries to do too many things at once when it comes to sinners. We do already know we're supposed to love, welcome, cherish, befriend, and accept people. After all, Jesus did those things! Jesus not only called for people to come to him, but he came down into the world, went out among sinners, and drew people to himself proactively. However, the Church finds it difficult to do this without first making known our preliminary condemnation of sinful behavior. To Starbuck, it's a bit like playing the game of Twister and trying to put our hands and feet on too many colors at once. It makes our balance shaky, it makes our message unclear, and it often causes people we're trying to reach for the Kingdom to retreat in confusion and fear of judgment.
Have something to say about this article? Leave your comment via Facebook below!
advertise with us
Example: "Gen 1:1" "John 3" "Moses" "trust"
Advanced Search
Listen to Your Favorite Pastors