Not Your Grandmother's New Testament: A Look at "Revolve"
Albert Mohler, Crosswalk Weblog Contributor
Thursday, September 18, 2003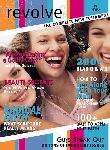 Today's American adolescents almost certainly know less about the Bible than any previous generation. Statistics indicate that many in this generation of teenagers have experienced almost no contact with the Bible, have no knowledge of its contents, and have no plans to do anything about it. This, we must all admit, presents biblical Christians with a huge challenge.
The folks at TransitBooks, a division of Thomas Nelson, Inc., think they have come up with a way to meet that challenge, at least when it comes to teenage girls. They recently released Revolve: The Complete New Testament, and they are getting a lot of attention.
Those looking for Revolve in the Bible section of your local bookstore may be disappointed. This isn't your grandmother's New Testament--not by a long shot. Revolve looks more like the latest issue of Cosmopolitan or Seventeen magazines. The headlines on the book's dramatic front cover promise features like, "Beauty Secrets You've Never Heard Before," and "Guys Speak Out on Tons of Important Issues." Three beautiful and smiling girls look out from the cover photo, and they could just as well be looking out from Glamour or Elle. This product is hip.  [see the Revolve web site]
Laurie Whaley, Thomas Nelson's brand manager for Revolve, told Fox News that the company's research indicated that "the message of the Bible didn't need a makeover." But, "perhaps the traditional black leather Bible did, in fact, need a makeover." She went on to say that teenage girls said that the traditional Bible is intimidating, or "freaky."
What do girls read? "Magazines, magazines, magazines," reports Whaley. Armed with that insight, the TransitBooks crew went to work producing a New Testament that looks, inside and out, like a magazine. Some have dubbed Revolve a "biblezine," merging the Bible with the magazine format. According to Christianity Today, 40 thousand copies have already been sold, and Thomas Nelson is quickly printing 60 thousand more. Who could be opposed to this?
Well, Dr. Russ Moore, for one. Director of the Carl F. H. Henry Institute for Evangelical Engagement and assistant professor of theology at Southern Seminary, Moore told MSNBC that Revolve "tends to trivialize the message of the Gospel." The format of the product and its focus on issues like cosmetics and romance actually compromise the Bible's message, he argued.  [see Baptist Press coverage]
The Gospel isn't glamorous, Moore insists. "It's a message that's not glamorous at all. It's a message of a crucified and resurrected Christ who calls all people everywhere to reconciliation with God through Him."  [see Henry Institute site]
"I don't think it trivializes," responded Whaley. "I understand the concern of trivializing. I think what it does is it pulls out points of reference for teen girls today, and shows them indeed that the Bible and that the message of the Bible and that the teaching of the Bible . . . is prevalent throughout the New Testament."
So, who's right? Is Revolve a great step forward in getting the Bible into the hands of teenage girls, or is it a slick trivialization of the Word of God?  After reviewing Revolve for myself, I must report that the reality went beyond my expectations drawn from news reports. This product just might take trivialization to a whole new level.
The sidebars, notes, and short articles scattered throughout the text sometimes deal with the accompanying New Testament passages, but not always. With the text of Matthew 3, girls will find this beauty secret: "As you apply your sunscreen, use that time to talk to God. Tell him how grateful you are that he made you. Soon, you'll be so used to talking to him, it might become as regular and familiar as shrinking your pores." Do sunscreen and shrinking pores really belong on the same page as the baptism of Jesus?
Have something to say about this article? Leave your comment via Facebook below!
advertise with us
Example: "Gen 1:1" "John 3" "Moses" "trust"
Advanced Search
Listen to Your Favorite Pastors