On Sparrow Hill
Maureen Lang, Author
Saturday, March 08, 2008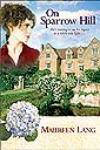 EDITOR'S NOTE: The following is an excerpt from On Sparrow Hill by Maureen Lang (Tyndale House Publishers).
Chapter 1

Hollinworth Hall, Northamptonshire, England

Rebecca Seabrooke didn't have to open the letter in her palm to know its contents: the annual employment offer from England's National Trust. More money than she would ever see at the private historical home at which she now worked. More prestige. Perhaps even a choice of locations, since so many of the country's national home treasures were owned by the Trust.

She really must e-mail her father and ask him to stop wasting postage on such offers. Despite what at least one Hollinworth thought of the work she did here, Rebecca was convinced the Hall was as much a treasure as any other property listed in the Trust's considerable inventory.
Brushing aside the letter, she turned her attention to her busy calendar. With her education staff manager on temporary family leave, Rebecca found herself taking charge of house-and-garden tours in between meetings with business associates and brides wanting to schedule the manor for banquets and weddings.
But none of that took precedence in Rebecca's mind today, for today the owner of Hollinworth Hall would return to the private quarters he kept in the north wing. And she'd only learned of his impending arrival this morning.
Nonetheless she'd already asked Helen to make sure his rooms had been aired and cleaned. Fresh flowers from Rebecca's favorite garden brightened every alcove, and even now Helen was baking his favorite bread. Rebecca could smell the fragrant herbs all the way up in her second-floor office. Given his mother's recent quote in a local newspaper about closing the Hall to visitors, Rebecca knew she had a fight on her hands and the son, the legal owner of the Hall, might very well be the rope in this tug-of–war.
Thankfully she'd outgrown the adolescent crush on him she'd once suffered. Her father had pointed him out as the son of the family he formerly worked for, and when she was twelve and he thirteen, she thought Quentin Hollinworth the most sophisticated and handsome male alive. He was still handsome—she knew that despite seeing him only once or twice a year—but growing up had taught her a few things, one lesson being that classes didn't mix well, even in today's all but egalitarian England. Though he wasn't dating the daughter of an earl anymore, there was still his mother. She was proof enough the classes should mix only when both parties wanted to be in the same one.
Rebecca had far too much work to be dwelling on such irrelevant things. Directing her attention back to her computer screen, she pulled up her e-mail. The first one she noticed was from a college friend about meeting at a club in London this weekend, another event Rebecca would be sure to skip. She skimmed the content, part of her admiring the busy city life her friends had chosen, part of her knowing she'd followed the right path in staying out here in the country.
Before long, her gaze returned to the window, hearing the crunch of gravel beneath a car. Quentin Hollinworth had arrived. She imagined the estate caretakers, Helen and William Risdon, going out to greet him, welcoming him home.
Unwillingly she glanced at the bottom drawer of her desk, where she kept the newspaper society pages she couldn't seem to resist. It was silly of her to have kept so many clippings, except that it all pertained to the family connected to the estate she ran. Keeping a scrapbook of their lives was part of her job as steward of their legacy. Preservation was more patriotic than personal. In that drawer was Quentin Hollinworth's recent history, from his political work to his not-so-private breakup with Caroline Norleigh. Rebecca couldn't think of Quentin without remembering all of that.
Have something to say about this article? Leave your comment via Facebook below!
advertise with us
Example: "Gen 1:1" "John 3" "Moses" "trust"
Advanced Search
Listen to Your Favorite Pastors