On Sparrow Hill
Maureen Lang, Author
Saturday, March 08, 2008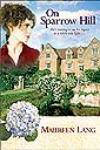 "We're being considered for a Featherby Education Award," Rebecca said finally. Her finest weapon, another award to prove that the preservation of historical English life should be valued not ignored, forgotten, sold, or kept hidden in the private lives of the elite.
"Yes, so I've heard. I received the notification at my London flat. It's entirely due to you, Rebecca. Congratulations."
She managed a steady smile. "We haven't won yet."
"As they say, it's an honor to be nominated." He caught her shifting gaze. "Actually, Rebecca, that was one of the reasons I planned to stay the summer. I thought I might lend a hand, talk to the judges, be immediately available if you need to consult about anything."
Relief, surprise, and pleasure melted through her. He supported her effort to win the Featherby? If he wanted the Featherby, he couldn't support his mother's idea to close the very function that won the nomination to begin with. "That would be lovely. I was considering going through the vault again. Perhaps we can re-create new attire for the staff." She turned to the monitor on her computer. "I have the vault's inventory here. If you have the time you might take a look at it."
He shook his head. "Helen tells me you've taken tours every day this week and have been working yourself silly. Can I have tea brought up for you?"
For a single moment she remembered her old crush, especially when she caught his eye as he waited for her answer. She shook her head. Now was certainly not the time to fall back into that old habit. "No, you go ahead. I'll check my e-mail, catch up on a few things here."
Quentin stood, nearing the door as she eyed message headers on her e-mail. An unfamiliar subject caught her eye.
"Quentin," she said slowly, clicking on the note, "have you heard of a place called West World Genealogy?"
He stopped and turned to her. "No, I don't think so. Why?"
"I've an e-mail from them with your name in the header. Shall I read it?"
He nodded.
"'Dear Mr. Hollinworth, an American family desires to make contact with English cousins such as yourself. In our research we have determined the lineage to be accurate. They have in their possession a journal belonging to Cosima Escott Hamilton, of whom you descend, which you might find of great sentimental interest.'" Rebecca looked at Quentin. "Are you familiar with a journal by Cosima Hamilton?"
Quentin shook his head.
"Nor am I." She looked again at the screen, noting the attachment. "There is a pedigree here. Would you like to see it?"
Without a word, Quentin rounded the desk. When he leaned over her, Rebecca could smell the faint trace of soap, the same pine scent he always used. The same brand Helen kept stocked in every bathroom in the Hall.
"The ancestry is correct," he said. "At least I think it is, from what I recall of those portraits hanging in the gallery. You probably know better than I; you write the tour scripts full of my family history."
"These names are right, even as far back as the first viscount. Some names I don't recognize, though—Grayson, Martin. I suppose that's the American side. We don't have many records of families outside the direct line."
"A shame we're all such snobs," he said with a grin. "What do you think then? It's legitimate?"
She nodded. "The list includes Cosima Hamilton's four children. I wonder if there is more family history that I don't know about."
"I doubt that," Quentin said, and she smiled at his assured tone—one of complete and utter trust that she knew more than she actually did.
Have something to say about this article? Leave your comment via Facebook below!
advertise with us
Example: "Gen 1:1" "John 3" "Moses" "trust"
Advanced Search
Listen to Your Favorite Pastors