On Sparrow Hill
Maureen Lang, Author
Saturday, March 08, 2008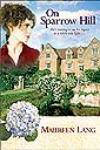 "I'll ring for dinner to be served on the veranda."
Rebecca watched him walk to the telephone mounted just inside the vault door. The exchange line was a precautionary measure, since the vault locked from the outside. Turning back to the last trunk, Rebecca listened to Quentin's voice as he directed Helen. A light dinner. On the veranda. For both of them.
She focused on the task before her. The latches on each side of this last trunk were stiff, but she managed to free them without marring the receptacle. Inside, a quilted dustcover protected the trunk's contents.
This trunk was one of two they had found only a short time ago, hidden from view behind a large Chippendale chiffonier. The first of the two trunks had contained nothing more than a set of china. She'd recognized the pattern immediately; while a popular nineteenth-century style and the number of settings plentiful, it wasn't particularly noteworthy except that it was Irish. It would be disappointing indeed if this second trunk contained only more of the same.
Instead of dishware, she found two small pouches, a set of books tied together with a leather strap, and a wooden box.
Rebecca heard Quentin approach from behind.
"Perhaps we've reached the end of the rainbow," she said, taking up one of the leather-bound books.
But they proved to be Victorian novels, not journals. One was Vanity Fair by Thackeray, and the other, John Halifax, Gentleman by Craik. No pot of gold here, even if the latter was one of Rebecca's favorite classics. Each looked like a first edition and was probably worth something, particularly the Thackeray novel with the author's original illustrations.
"Let's see what's in these pouches," Quentin said. He pulled the string on one, tumbling a handful of polished stones into his palm. "Nice specimens."
"Perhaps some should go into the science hut," she said. "I'll have a look at them later to see what kind of stones they are."
She pulled the box from the bottom of the chest. It was made of smooth wood, stained and varnished to a sheen, capped at the corners with dark metal brackets. On the lid were words burned into the wood in meticulous calligraphy:
Everything that is done in the world is done by hope.
"Isn't that something Luther said?"
Rebecca nodded, tracing a finger over the letters, unable to resist touching them. "It's lovely, isn't it?"
"Let's see what's inside," he said.
She rocked the lid loose. It was stuck tight from years of disuse. At last it came free, squeaking as she lifted it.
"Papers," she said. "Letters, with a note on the top."
"Does it say whose they are?"
Rebecca shook her head, reading bold words written at the top of the yellowed sheet of paper. "'For I reckon that the sufferings of this present time are not worthy to be compared with the glory which shall be revealed in us.'" She looked at Quentin. "That's from St. Paul's letter to the Romans."
"Does it say anything else?"
She read the rest of the note. "'My dear Berrie's life can be summed up by hope and worship, along with a fair share of suffering to keep her fixed on eternity. Enclosed are the letters she sent to me so long ago, when we were both young and had much to learn.'
"Hope, worship, and suffering," Quentin said grimly. He looked from the box to Rebecca, holding her gaze. "The life of a Hamilton—and a Hollinworth. At least my father's. Maybe mine, to some extent."
She wanted to dwell on his observation, discuss the suffering he'd been through since the loss of his brother and father when their small plane went down in a fog, ask countless questions to fathom if it had turned him bitter or soft toward worship. But old fears stood in the way. Too personal, don't pry. And yet . . . the look in his eye . . . Perhaps he wanted her to.
Have something to say about this article? Leave your comment via Facebook below!
advertise with us
Example: "Gen 1:1" "John 3" "Moses" "trust"
Advanced Search
Listen to Your Favorite Pastors