Parenting Is Not About Kids, It's About Parents
Hal Edward Runkel, Author
Tuesday, October 16, 2007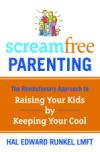 It's not you, it's me.
—George Costanza, Seinfeld
The greatest thing you can do for your kids is learn to focus on yourself.
That statement might not make complete sense right now. It might, in fact, seem downright offensive. What? Turn the focus away from my children and onto myself? Isn't that against all the rules?
No, it isn't. I'm not proposing that you put your children last on the list. Far from it. What I am saying is that by focusing on yourself, you will have a healthier, happier relationship with your whole family.
You see, most of us have been operating with a faulty model of how to live in our relationships. That's not to say our relationships are all faulty, but the model sure is. We've been operating with a model that says in order to have healthy relationships, we need to focus on meeting other people's needs, trying to serve them and make them happy.
To even question such a model draws controversy, I know, but stay with me. By focusing on yourself, you will have a healthier, happier relationship with your whole family.
This book is going to talk about why this model is so faulty, particularly in our parent-child relationships. For now, there are a few simple things we should consider. First, it's a given that there are things in this world we can control and things we cannot control. Now ask yourself this question: How smart is it to focus your energy on something you can't do anything about, something you cannot control?
Answer: Not very.
Follow-up question: Which category do your kids fall into? In other words, are your children something you can control or something you cannot control? Here's an even tougher question: Even if you could control your kids, should you? Is that what parenting is all about? And what if it's not the kids who are out of control?
A fundamental assertion of this book is that God wants us to parent our children the way he parents us. Think about how he relates to you. Does he constantly hover around you trying to make you completely comfortable? Is God some kind of control freak, pulling your strings and manipulating your every choice? Of course not! God is concerned about you, but he does not allow you to set his agenda. He always acts out of his own integrity. What would your relationships look like if you started to do the same?
Who's Really Out of Control Here?
My kids, Hannah and Brandon, were four and two, and it was one of those Saturday mornings. My wife, Jenny, and I had stayed up way too late on Friday night, which guaranteed that our kids would get up way too early the next day. And so the weekend began with a lot of whining and crying and complaining—and the kids were upset as well.
So I decided, in my parenting expert wisdom, to get us all out of the house. Let's go to Waffle House for breakfast.
Now the first Waffle House we walked into was just too full, but, thankfully, there is no shortage of Waffle Houses in suburban Atlanta. So, we piled back into the car, strapped our children into their car seats, quieted disappointed whines with promises of lots of maple syrup, and drove the hundred yards or so to a second Waffle House. And the line at the second one was just as long as the first.
There was no way we were getting the kids back into the car for another trip, however, so we decided to wait it out. Thankfully, the staff at this Waffle House were thinking—they had crayons and blank paper for the kids. My wife and I could even get in a little adult conversation. A win-win situation.
As if that weren't enough, a sign caught my eye. If my children drew a picture, they were entitled to a paper Waffle House hat—just like the grill man wears—and a free waffle.
Have something to say about this article? Leave your comment via Facebook below!
advertise with us
Example: "Gen 1:1" "John 3" "Moses" "trust"
Advanced Search
Listen to Your Favorite Pastors