Parenting Is Not About Kids, It's About Parents
Hal Edward Runkel, Author
Tuesday, October 16, 2007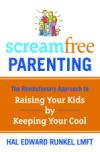 Sometimes life is good. The kids colored. My wife and I talked. The time flew and before we knew it, we were seated—my wife and daughter on one side of the booth, my son and I on the other. They brought the kids their paper hats, and I even tried one on.
If you've never been to a Waffle House, you would be amazed at the consistency of their architecture. All the tables surround the kitchen, and wall-length windows surround the tables. It's very open, and it's easy to notice the goings-on of others.
Now, while I was feeling pretty good by this time, my kids hadn't eaten anything all morning. Hungry kids who've done nothing but wait around can be…restless. Hannah, our four-year-old, handled it all right, just garden-variety complaints. But Brandon, our two-year-old, sure was feeling two years old, if you know what I mean. Two-year-olds generally have no regard for things like "practicing an inside voice" or "using words like a big boy" when they've been forced in and out of a car with nothing to eat but promises. Cooperating with me was not high on his list of priorities at the time. Enjoying a nice family breakfast didn't seem like such a good idea now.
But I'm a Licensed Marriage and Family Therapist. I'm a relationship coach. I know how to control myself and keep from losing my temper. I know better than to react and resort to yelling and violent acts of coercion. I can stay calm in the face of increasing levels of anxiety.
But then my son threw his fork on the floor. My resolve began to fade.
The fork made a loud noise, causing all the people around us to look at me. Some of them even pointed and whispered (at least that's what it felt like they were doing). I looked over at my perfect wife sitting there with my perfect daughter. There is an unwritten rule among parents with multiple kids: Whoever is sitting on your side is on your watch. So while the women in my life are enjoying this angelic scene of cooperation and intimacy, my son and I are on the verge of World War III.
Nothing is making him happy, nothing is stopping him from the beginning stages of an all-out tantrum. Finally, his waffle arrives and I think the battle will be over soon. So, I start to cut the waffle up, but he doesn't want the waffle cut up. Maybe he wants to eat the whole thing with his hands in one bite, I don't know. I do know I'm feeling closer and closer to my own emotional edge.
But I'm the expert on human relationships, right? I'm the one planning to write a book someday called ScreamFree Parenting. Was I going to allow a two-year-old to push my buttons?
You bet I was. See, the fork got such a great response, my son began to wonder what might happen if he threw his waffle—plate and all—on the floor.
Here's what might happen: Daddy might lose his cool! And that's precisely what did happen.
I hastily apologized to the people with syrup splatter on their feet and then snatched Brandon out of his booster seat. Then I apologized to the man sitting in the booth behind us after Brandon's foot hit him in the back of the head.
And then we stormed out of the restaurant. All eyes were fixed on us as my son kept screaming. And kicking. And hitting.
I was seething as I pushed the door open with such force that it rattled the glass walls. The reverberating structure got everyone's attention. The entire restaurant saw me outside on the sidewalk, yelling at my son, using big words, asking rhetorical questions, puffing out my chest, pointing my finger, and intimidating a boy who couldn't have stood more than thirty-six inches tall. What a big man I was!
Finally, somehow, the ugly scene ended. Brandon and I returned to our seats to complete our nice family breakfast. And there sat Jenny, my loving and faithful wife. I think she wanted to say something supportive and reassuring, but she just couldn't contain the smirk. I was a volcano looking for an excuse to erupt.
Have something to say about this article? Leave your comment via Facebook below!
advertise with us
Example: "Gen 1:1" "John 3" "Moses" "trust"
Advanced Search
Listen to Your Favorite Pastors