Prayer Coach
Jim Nicodem, Author
Wednesday, June 11, 2008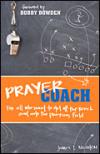 If this is the cry of your heart, if you wish you prayed more than you do, if you're ready to remove the obstacles that keep you from just doing it, consider the common prayer busters which can be overcome with God's help.
No Plan
Stop and think for a moment about something you meant to do—but haven't gotten around to. Maybe it's the oil in your car that should have been changed three thousand miles ago. Or the important phone call that should have been returned last week.
Or shouldn't you have taken the dog to the vet for his annual shots by now?
Why haven't you done these things yet? Chances are pretty good that your problem is as simple as not having a plan for getting the job done. You haven't officially put it on your "to do" list or written it on your calendar. You've heard it before: when we fail to plan, we plan to fail.
This is why my heating bill was so high this past winter. We have trouble with the airflow in our home, which makes it necessary for me to close all the first-floor vents in the summer (to force the cool air upstairs) and close the second-floor vents in the winter (since the heated air will rise anyway). When temperatures started to drop in late fall, I kept telling myself, I've got to readjust all those vents. But I never got around to it.
All winter long I pumped hot air up to the bedrooms, which meant that the first floor thermostat never warmed up enough to turn off the furnace. It ran and ran and ran. On bitter cold January nights I found myself perspiring and kicking off blankets. Each morning I'd think, I've got to readjust all those vents. But the job never got done. Why? Because it didn't make it to my chores list. I didn't write it in my Day-Timer to be done on my day off.
The things we get done are typically the things that we schedule to do. No plan, no action. This is just as true when it comes to the practice of prayer. Do we have a set time and place for this spiritual discipline? (This is not to suggest that we shouldn't be praying spontaneously throughout the day. But this sort of impromptu praying is more likely to happen if we have developed the habit of daily planned prayer.)
Jesus made plans to pray. He intentionally set aside time and had specific places he liked to go to talk with his heavenly Father. It is not surprising that his disciples observed him at prayer in Luke 11, because Jesus is frequently found praying in this Gospel. In fact, some have referred to Luke as "The Gospel of Prayer." Here's a quick survey:
3:21: When all the people were being baptized, Jesus was baptized too. And as he was praying, heaven was opened…
5:15–16: Yet the news about him spread all the more, so that crowds of people came to hear him and to be healed of their sicknesses. But Jesus often withdrew to lonely places and prayed.
6:12–13: One of those days Jesus went out to a mountainside to pray, and spent the night praying to God. When morning came, he called his disciples to him and chose twelve of them…
9:18: Once when Jesus was praying in private and his disciples were with him, he asked them, "Who do the crowds say I am?"
9:28–29: About eight days after Jesus said this, he took Peter, John and James with him and went up onto a mountain to pray. As he was praying, the appearance of his face changed, and his clothes became as bright as a flash of lightning.
22:39, 41, 44: Jesus went out as usual to the Mount of Olives, and his disciples followed him. . . . He withdrew about a stone's throw beyond them, knelt down and prayed… And being in anguish, he prayed more earnestly, and his sweat was like drops of blood falling to the ground.
Prayer was routinely on Jesus' agenda. It was something he made plans to do. And if prayer is going to happen in our lives we will have to put it on our schedules. When and where will you pray each day? That's what a plan comes down t time and location.
Have something to say about this article? Leave your comment via Facebook below!
advertise with us
Example: "Gen 1:1" "John 3" "Moses" "trust"
Advanced Search
Listen to Your Favorite Pastors