Prayers for People Under Pressure
Jonathan Aitken, Author
Tuesday, May 13, 2008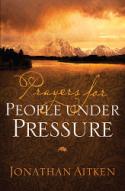 EDITOR'S NOTE: The following is an excerpt from Prayers for People under Pressure by Jonathan Aitken(Crossway Books).
Journey into Prayer
I know you're having a terrible time. Can I come in and pray with you?" said the man standing on my doorstep. It was the summer of 1997, and I was under tremendous pressure from media stakeouts and scrutiny. So I hesitated, fearing that this might be yet another ingenious ploy by a reporter to get inside the house. After some suspicious peering at the entry-phone screen I recognized the man on the doorstep. He was a distant acquaintance, Mervyn Thomas. I remembered that he had recently written me a sympathetic letter about the disastrous collapse of my libel action against The Guardian. I did not have many sympathizers in those dark days. So on impulse I let him in.
In the conversation that followed Mervyn Thomas made it clear that what he had really meant on the doorstep was that he wanted to pray out loud with me. Belonging as I then did to the reticent wing of Anglicanism, I would rather have gone to the dentist without an anesthetic. However, the combination of my terrible times and my guest's sympathy weakened my resistance. So Mervyn did pray aloud, and I halfheartedly joined in on the "Amen." It was my first experience of one-on-one extempore oral prayer.
"Would you like me to come again?" asked Mervyn Thomas.
"Well . . . er . . . yes . . . no . . . I don't think this kind of thing is really my scene. . . . I mean, I wouldn't like to do it too often," I muttered.
"But I think you do need regular prayer support," was the gentle response.
Regular prayer support. It was the second time the phrase had crossed my horizon in just a few days. Its first appearance came in a letter from a political acquaintance offering to convene a group of "friends from Parliamentary and public life" who would meet once a week to give me "regular prayer support." The writer of this letter was Michael Alison. Good, solid, dependable old Michael. Eton, Cambridge, the Brigade of Guards, Tory MP, Junior Health Minister, Willie Whitelaw's No. 2 as Minister of State for Northern Ireland, Margaret Thatcher's Parliamentary Private Secretary, Privy Councillor, Church Commissioner, and a much respected senior legislator. I was on friendly terms with him, but not close. A few months earlier I had asked him if a press story saying that he had refused a knighthood was true. "Well, yes, I didn't really feel worthy of it," was his reply, which I thought bordered on the eccentric considering how many far less worthy Parliamentary colleagues collect their "Ks" with the rations.
I knew Michael was a practicing Christian because he was a regular attender at the Communion service for MPs held monthly in St Margaret's, Westminster, followed afterward by breakfast in Speaker's House. However, there were no clues from his self-effacing conversation at these events to suggest that Michael could be into "praying out loud" or any other deviations from traditional religion, such as forming groups to provide fallen sinners with "regular prayer support." It sounded a step too far from the Church of England that I knew. So I stayed cool and reticent about the idea.
In their different ways, Mervyn Thomas and Michael Alison stayed warm and persistent. They had an unexpected American ally in Charles Colson, with whom I was exchanging deeply personal letters that summer. Notorious for being Richard Nixon's "hatchet man" who had served a jail sentence for Watergate-related offenses, Colson had been a valuable source of new material for my 1993 biography of the thirty-seventh President of the United States. In my historical interviews with Colson about the goings-on in the Nixon White House, he had barely mentioned his post-Watergate conversion to a life of Christian faith and ministry. Even so, we struck up a good rapport, and he reviewed my book generously in the American press. However, we were no longer in touch with each other until, by chance, Colson was staying in a London hotel on June 21, 1997, the day when I became front-page news as public enemy number one after being caught telling a lie on oath in the Guardian libel case.
Have something to say about this article? Leave your comment via Facebook below!
advertise with us
Example: "Gen 1:1" "John 3" "Moses" "trust"
Advanced Search
Listen to Your Favorite Pastors