Prayers for People Under Pressure
Jonathan Aitken, Author
Tuesday, May 13, 2008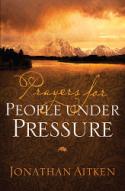 Reading theology at Wycliffe, forty years after reading law at Christ Church, was a very different Oxford experience. In an after-dinner speech I later described the culture change by saying, "At Wycliffe, I rise soberly and early in the morning, saying 'Good morning, God.' At Christ Church I used to fall out of bed with a hangover at around noon saying 'Good God, morning?'"
Early-rising Wycliffe gave me two of the most enriching years of my life. Its academic standards were demanding, but its community life was loving. Most of my fellow students were training to be ordained ministers in the Church of England or other overseas churches. I was one of a small handful of publicans and sinners reading theology for their own (in my case unknown) purposes. When asked to explain what I was doing at an Anglican theological college I would answer, "Trying to get to know God better."
If I succeeded in this objective, it was not through passing examinations in New Testament Greek, Church History, Christian Doctrine, and Biblical Knowledge of the Old and New Testaments. It was through prayer. For it was the prayer life of Wycliffe that carried me into new and enthralling spiritual territory.
The highlights of my week were the tutored fellowship group sessions and the student-only cell group meetings. My fellowship group was led jointly by the Principal of the College, Professor Rev. Dr. Alister McGrath, and by the Rev. Michael Green. From these two great scholars I learned to love God as he reveals himself through Scripture. The primacy of the Word is heavily emphasized in an evangelical seminary, but Wycliffe encourages its students to range widely and deeply into studying the lives and writings of past saints. So Alister McGrath encouraged me to read Augustine, Clement, Julian of Norwich, Lancelot Andrewes, Thomas à Kempis, Francis of Assisi, Martin Luther, William Law, John Calvin, Ignatius of Loyola, Thomas Merton, Dietrich Bonhoeffer, and many others whose prayers appear in these pages. Michael Green took me out into the world on missions to all sorts of communities, national and international, training me and my Wycliffe classmates to put our newly acquired knowledge into practice as student evangelists. Prayer was central to this mission work, as it was in the daily life of the college in our cell groups and in our individual prayer partnerships.
Two individual prayer partners became very special to me during my two years at Oxford, possibly because they were older men with backgrounds and past careers to which I could easily relate.
The first of these was someone who had nothing to do with Wycliffe. He was Sir Andrew Green, who had retired from a distinguished diplomatic career with the Oxfordshire village of Deddington. Our paths had previously crossed in Whitehall and in British Embassies abroad. Somehow we reconnected and became aware that we were again traveling on similar paths—this time of Christian searching. We began meeting and praying together on a regular basis. I credit Andrew with keeping me "earthed" in the real world at a time when, without his intellectual and practical companionship in prayer, I might have become over-religious and taken myself too seriously in spiritual matters about which I still know far too little. Andrew may credit me with giving him prayer support when he was founding Migrationwatch UK, a now famous think tank that monitors Britain's elusive immigration statistics. I know that Andrew's work for Migrationwatch is deeply rooted in his Christian faith and spiritual integrity.
My second individual prayer partner was fellow Wycliffe student Paul Zaphiriou, whom I had first met in the Alpha Course at Holy Trinity, Brompton, in 1997. Then he was a successful businessman. Now he is an ordained Church of England clergyman at St George the Martyr in Holborn, London. He opened my eyes to his earlier spiritual heritage in the Orthodox Church, and it is his influence that has led me to some of the Eastern prayers in this book. Paul and I have traveled far together. Among our many bonds was the fact that having arrived at Wycliffe as rather lonely and divorced middle-aged men, both of us found love and are now happily married.
Have something to say about this article? Leave your comment via Facebook below!
advertise with us
Example: "Gen 1:1" "John 3" "Moses" "trust"
Advanced Search
Listen to Your Favorite Pastors