Prayers for People Under Pressure
Jonathan Aitken, Author
Tuesday, May 13, 2008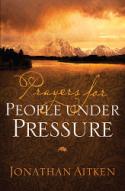 For me, marriage was a huge leap of prayer and faith as well as of love. The sad divorce from my first wife, Lolicia, in 1998 (entirely my fault) had left me bruised. I resolved to stay celibate. For over five years, with one brief lapse, this resolution prevailed. Then by a series of coincidences Elizabeth Harris, with whom I had been romantically involved twenty-five years earlier, reentered my life.
After a number of chaste dinners and theater outings together we knew we were falling in love.
When I started to tell my Christian friends that I was thinking of getting married again to Elizabeth, their reactions were mixed. It did not help matters when the paparazzi began taking an interest in us. Gossip column coverage with colorful references to Elizabeth's former film-star husbands Rex Harrison and Richard Harris produced pained letters from Christian well-wishers, some of which read more like the correspondence of ill-wishers. Elizabeth became unsettled, particularly after a visit to a big evangelical church in North Oxford, St Andrew's Linton Road, where my talk was followed by some sanctimonious questions about our relationship.
Such hostility was upsetting, but it was more than balanced by the tender loving care of my closest prayer partners. Their main concern seemed to be: Would Elizabeth be a supportive companion on my spiritual journey? Would we be partners in prayer as well as in marriage?
Although I felt sure the answer was yes, I committed the questions to prayer, not least with Elizabeth herself. We became regular churchgoers at St Matthew's, Westminster, whose sensitive and sympathetic vicar, Father Philip Chester, was a tower of support to us. He married us in St Matthew's in June 2003. Elizabeth's faith is more private but just as committed as my own. We now pray together every night of our lives. As the dedication to this book says, she is my nearest, dearest, and closest prayer partner. I thank God daily for her.
One development in my prayer life for which Elizabeth is responsible is that I now enlarge the ACTS structure into the longer acronym, ACTORS. The additional letters, OR, stand for "Our Relationship," which means our relationship with God. I have learned on my journey that whatever life's pressures may be, a committed relationship with God in prayer is the answer to all of them. As this relationship is constantly developing, it seems appropriate to have a separate category of prayer under this heading, hence the section Prayers for Our Relationship with God in this book.
Although my journey of prayer has been a momentous one across extraordinarily varied scenes and settings, this introduction must end on a note of humility, for the journey is far from over. All I really know is how little I know about this vast subject. So I am extremely cautious about making suggestions to other people on how to organize their prayer life when I have so much to learn about my own.
We are all learners in prayer. Novices can often be better at it than so-called experts. God's ear is tuned to all voices and ways of praying to him. So we should pray as we can, not as how this or any other book tells us to.
That said, some paths of prayer signposted in these pages are well tried and true. Travelers along such paths may be a much larger multitude than the statistics of religion suggest. For, interestingly, the opinion polls tell us that although less than 10 percent of the people in contemporary Britain go to church, over 90 percent of them say a prayer from time to time. The practice of prayer is, therefore, far greater than the practicing of religion.
Since direct communication with God in prayer is surely the truest path for a spiritual journey, my final prayer is that this small book may help others along that path and be for the greater glory of God.

1. See my book Psalms for People Under Pressure, p. xii. 34

Prayers for People under Pressure
Copyright © 2008 by Jonathan Aitken
Published by Crossway Books
a publishing ministry of Good News Publishers
1300 Crescent Street
Wheaton, Illinois
All rights reserved. No part of this publication may be reproduced, stored in a retrieval system or transmitted in any form by any means, electronic, mechanical, photocopy, recording or otherwise, without the prior permission of the publisher, except as provided by USA copyright law.
Have something to say about this article? Leave your comment via Facebook below!
advertise with us
Example: "Gen 1:1" "John 3" "Moses" "trust"
Advanced Search
Listen to Your Favorite Pastors