Prayers for People Under Pressure
Jonathan Aitken, Author
Tuesday, May 13, 2008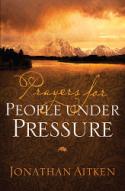 Colson immediately wrote me a letter urging me to take the Christian path of repentance. Filled with remorse for my wrongdoing, I was receptive to his suggestion. However, I had no real understanding of the concept of repentance. I did not know the deeper meaning of the Greek word for it, metanoia, which translates as "a change of heart and mind." I thought repentance consisted of saying sorry, preferably as quietly and as privately as possible, and then getting back to business as usual.
As my correspondence with Colson developed, he seemed to be suggesting a far less convenient approach to repentance. He recommended that I should "get a group of praying friends" around me to whom I should "become accountable." He mentioned his own experiences—described in full in his 1976 autobiography, Born Again—of belonging to a group that consisted of a Senator, two Congressmen, and a Washington, D.C pastor. This quartet breakfasted together once a week, "shared everything as brothers," and "had fellowship"—whatever that was. This formula of born-againers sharing coffee, croissants, sins, and Bible reading had no appeal for me. My religion was private and was going to stay that way.
For some weeks there was a tug-of-war in my spiritual life between privacy and fellowship. It was resolved not by evangelical Protestants but by Roman Catholics. Long before I was in any kind of trouble I had developed a friendship with Father Gerard Hughes, SJ, the author of God of Surprises. We had met when my political star was in the ascendant and the skies of my ambition seemed cloudless. At that time I was so keen on worldly success that I was not particularly receptive to what he called "spiritual direction." However, there must have been the seeds of a latent spiritual hunger buried somewhere deep within me. For against my natural instincts Father Hughes somehow persuaded me to participate in the first ever Parliamentary Retreat during Lent 1994, a commitment that meant setting aside several hours a week for the various activities this involved.
During the retreat we talked a lot about prayer, which Father Hughes defined as "daring to make the inner journey." Later he added that there are times in the journey when one needs companions and there are times when one needs to pray alone. On that basis there was no need for any tug-of-war between what my self-defense mechanism called "private religion" and what Colson, Alison, and Thomas variously called "fellowship," "prayer partnership," or "prayer support group" religion. Even so I was still equivocal about getting involved with such novel (for me) activities, until one night I was reading a lecture on prayer by Evelyn Underhill who quoted some advice from a sixteenth-century Catholic mystic, St. Teresa of Avila. The advice was, "when you start to pray, get yourself some company." This sentence hit me like a killer punch, knocking out my already fading resistance to Michael Alison's proposal of "a prayer support group" to help me through my troubles.
The group that duly convened for breakfast, Bible reading, and prayer every Thursday morning consisted of what appeared to be a gathering of reserved, cautious, and determinedly nonintrusive Englishmen. In alphabetical order we were: Jonathan Aitken, Michael Alison, Tom Benyon (all ex-MPs); Alastair Burt, a sitting MP; Anthony Cordle, the son of a former MP; Michael Hastings, a senior BBC executive; James Pringle, a retired businessman; and, later on, Mervyn Thomas. How Michael Alison got this lot together remains something of a mystery. I myself knew none of them well and three of them not at all. The only common denominator was that they were all willing to turn up once a week to pray for someone in trouble.
Although my troubles were getting steadily worse, unfolding into the nightmare scenario of defeat, disgrace, divorce, bankruptcy, and jail, the dynamics of this prayer group soon took on a life that went deeper and wider than the Aitken dramas.
Have something to say about this article? Leave your comment via Facebook below!
advertise with us
Example: "Gen 1:1" "John 3" "Moses" "trust"
Advanced Search
Listen to Your Favorite Pastors