Prayers for People Under Pressure
Jonathan Aitken, Author
Tuesday, May 13, 2008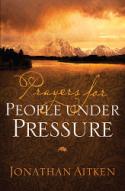 Until I joined this group, my idea of praying was to say the Lord's Prayer, occasionally adding one or two "Lord, help me!" mumbles of an entirely self-centered nature. On a bad day I might possibly open the 1662 Book of Common Prayer and read whichever of its versicles, responses, prayers, or collects seemed particularly appropriate to my circumstances. Although some of the BCP's liturgical creations have great power and beauty, such a formal style of prayer can easily become stilted and depersonalized. So I was ready to enlarge my prayer horizons even if the new prayer techniques to which I was being introduced came as quite a surprise.
The most regular of these techniques was to go around the table at our Thursday breakfasts, asking, "What are your prayer needs?" Once we had broken through the barriers of British reserve with each other, this question brought to the surface all manner of replies in areas such as family worries, job or money pressures, personal relationship problems, and so on. "What are your prayer needs?" may sound a mundane question, but the oral prayers that flowed from it were sometimes remarkable, as were the answers to those prayers.
We were fortunate that our group included some experienced believers with great gifts of prayer. For example, James Pringle, who had a voice like a cello and an encyclopedic knowledge of the Bible, had rare skills in linking our prayer requests to passages of Scripture. Mervyn Thomas, an experienced Baptist pastor, brought a Pentecostal fervor to prayer that I had never before experienced. Michael Alison changed from a pillar of the Anglican establishment into a sage of Reformed theology (a subject he had studied at Ridley Hall, Cambridge), using his learning to lead our Bible readings with great expertise. The rest of us joined in with far less scriptural knowledge and devotional experience, but even so, the totality of the group's prayerfulness somehow felt powerful.
These Thursday breakfasts made two important impacts on me. The first was that the word brothers, or in its longer form brothers in Christ, took on a real meaning. Although we were very different characters, our unity of purpose turned us into a fraternal group of loving prayer partners within a matter of weeks. Jesus' words, "Where two or three are gathered in my name, there am I among them" (Matthew 18:20) cast their own mantle over us all, so much so that there were times during our prayers when I felt his presence to be near. This strong feeling of being part of a brotherhood of Christ's followers had its effect on my prayers. I stopped asking for God's holy electrical energy to come down from the skies to solve my problems, to stop me from being prosecuted, going to jail, losing my house, and so on. Instead, I prayed for my brothers (whose private troubles sometimes seemed almost as needful as my public torments) and for the requests they had made on behalf of their families, their friends, and their situations. This seismic shift away from self-centered prayer toward praying for others was swiftly followed by the second impact of belonging to the group. The more I heard about Jesus Christ from our Bible studies and prayers, the greater became my desire to learn more about him. I felt his powerful attraction, perhaps even his call (though I did not recognize it at the time), and so I prayed to get to know him better.
This new shift toward God-seeking prayer met with an unexpected response from Michael Alison. He told me that he had been a former churchwarden of a leading evangelical church in London—Holy Trinity, Brompton—which ran classes in Christian teaching called Alpha courses. He said I should do one. At that time I had heard neither of the church, nor of the course. But I trusted Michael, so at his instigation I went to see the vicar of Holy Trinity, Brompton. He was not the rabid hot-gospeler I had somehow been expecting to meet. He was a reassuringly avuncular figure, the Rev. Sandy Millar whom, forty years earlier, I had thought of as an icon because when I was a small boy at Eton he had been a school prefect and legendary figure. As the heroes of one's youth can be the heroes of one's life, it did not seem as strange as it might otherwise have done for me to be sitting in Sandy's vicarage study receiving his godly wisdom, which seemed to come down to, "If you're serious about having a relationship with Jesus, you should come and do an Alpha course here at HTB."
Have something to say about this article? Leave your comment via Facebook below!
advertise with us
Example: "Gen 1:1" "John 3" "Moses" "trust"
Advanced Search
Listen to Your Favorite Pastors