Prayers for People Under Pressure
Jonathan Aitken, Author
Tuesday, May 13, 2008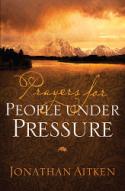 Then an interesting thought came along. Tuesday, June 8 had been a day on which many people were praying for me. I knew this from the breakfast prayers the Alison group members and others such as Charles Colson had said for me before we set off from my home to the Old Bailey. I knew it from the letters I had received that morning from complete strangers and from old friends and even a hand-delivered note sent round from Lambeth Palace by Archbishop George Carey. I knew it from looking up from the dock of Court No. 1 of the Old Bailey at the public gallery just before the judge passed sentence. There I saw Lord Longford, Father Norman Brown of Westminster Cathedral, and James Pringle sitting in the front row. All three had their eyes closed, so I guessed they were praying. Putting these various fragments together, I began to wonder if the reason why I had nothing to confess was that throughout the previous day I had been protected and guided by the supernatural forces of prayer.
Then I turned to Thanksgiving. At first glance there might seem to be precious little to give thanks for if you are locked up in Britain's highest security prison on the first day of your sentence. Not so. For some reason I dredged up from my memory William Law's advice about gratitude to God:
If anyone could tell you the shortest, surest way to all happiness and perfection, he must tell you to make it a rule to yourself to thank and praise God for everything that happens to you. For it is certain that whatever seeming calamity happens to you, if you thank and praise God for it, you turn it into a blessing.
These seventeenth-century words set me off on a count-your-blessings exercise. There was a huge list of things to thank God for—his love, his forgiveness, his gift of a new life in Christ, even his chastenings. There were all sorts of practical reasons for gratitude too. The judge's eighteen-month sentence had been fair. My friends and prayer partners were wonderful. My family's morale, and my own, had held up better than expected. One way and another, thanking God came easily.
Moving on to Supplication, or asking, my children's needs were the top priority, followed by a handful of people whose serious illness or other difficulties made their plights even worse than mine. I also prayed for peace with the editor of The Guardian and other journalists. These supplications ended by praying over some verses from Psalm 91. This is a great plea for God's protection from enemies, something I badly needed in the light of the previous evening's chantings and threatenings.
My prayers were interrupted by shouts of "Unlock! Everybody out!" This was the daily wake-up call to the inmates of Belmarsh from its prison officers as they came down the wings unlocking our cell doors and ordering us to stand on the landings for the morning roll call. As I stepped out of my cell I remembered that the noisiest vocalists of the night before had been my immediate neighbors to my right and left. So I literally trembled as I stood on the landing beside them until it emerged that their nocturnal hostility had changed into amiability.
"G'morning," said one of them, "'ope you slept well. Sorry about last night. We were on the tackle [drugs]. Just lettin' off steam."
"Yeah, nothing personal, mate," said the other. "Let's 'ave a rosie together at association" (a cup of tea at tea-break time).
As my eyes started to become accustomed to the landscape of prison, I was surprised by many more unexpected discoveries. The first was how young everyone seemed to be. The average age of a British prisoner is twenty-three. So Belmarsh, like other big London prisons, has many teenagers within its walls. My second observation was the extraordinary availability and common usage of drugs. The third was that beneath the surface of these outwardly macho young men lurked a lot of human vulnerability.
Have something to say about this article? Leave your comment via Facebook below!
advertise with us
Example: "Gen 1:1" "John 3" "Moses" "trust"
Advanced Search
Listen to Your Favorite Pastors